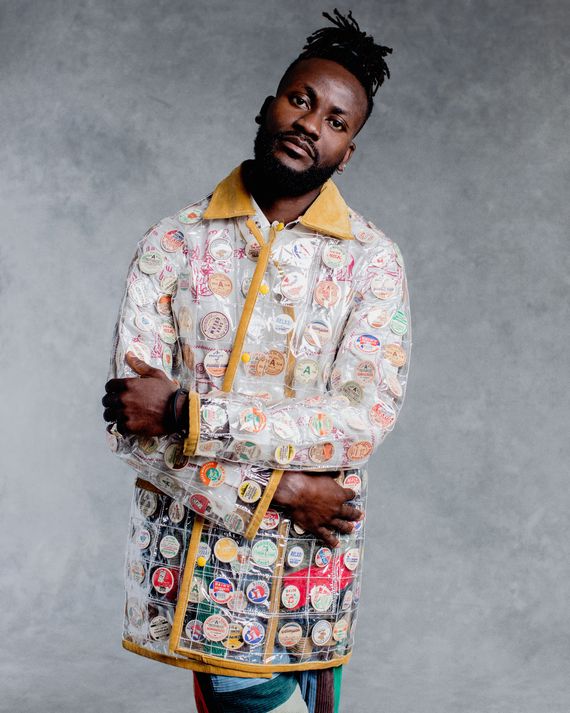 Amoako Boafo's swirling, colorful portraits are easy to like on a purely aesthetic level. But his work is packed with meaning. The Accra-born, Vienna-based artist uses oils, acrylics, and pastels to explore masculinity, diaspora, and the role of the muse in art. The primary idea, he says, is "representation — documenting, celebrating, and finding new ways to approach blackness."
Art has always been a part of Boafo's life. As a kid, he says, "drawing was one way to avoid a beating or getting into any trouble." After high school, he wanted to study art, but his mom didn't have enough money, so he played lawn tennis. His mom's boss eventually guided him to art school. "I had never imagined art as a tool for making money," he said. "I was only thinking what I would enjoy and love to do when I am old."
It turned out to be a good bet. Boafo is currently preparing for an artist-in-residency at the Rubell Museum in Miami, which is known for championing young talent (Sterling Ruby held the first residency in 2011). We spoke with Boafo about Nina Simone, Mr. Bean, and tennis.
If you could spend three months anywhere, where would it be?
Ghana.
If you could have a superpower, what would it be? Teleportation.
What's the best album ever made? I Put a Spell On You, by Nina Simone. 
What's your go-to karaoke song? "Juicy," by Notorious B.I.G. 
Who do you think is cool? My mum. 
Who is a fictional character you'd want to hang out with? Mr. Bean. 
If you could talk to animals, which animals would you want to talk to? Birds.
Jeans or sweats? Jeans. 
What is something your social-media followers don't know about you? I am an ardent tennis player.
What was the last website you looked at? Amoakoboafo.com.
If you could be outfitted by one designer for the rest of your life, who would it be? Giorgio Armani.
What do you eat for breakfast? Apples and tomatoes. 
If you were a color, what color would it be? Yellow.
Amoako is wearing a Bode jacket, shirt, pants and a David Yurman ring.