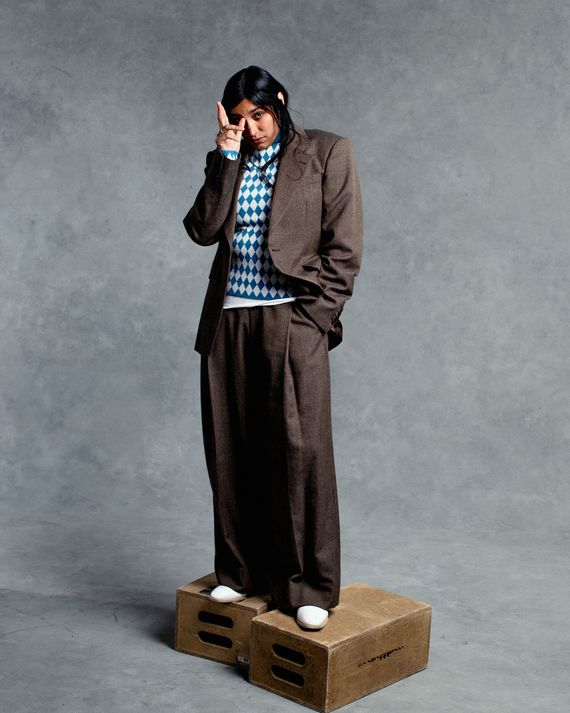 For almost a decade, Nino Brown has been organizing and DJ-ing some of the best dance parties in Toronto through the company she co-founded, Yes Yes Y'all. She says she loves DJ-ing because it allows her to be both integral to the party and an outsider: "I never wanted to be the star, but love being the star's best friend, if that makes sense? I like to be around, and in control, but being behind the decks allows for a certain amount of anonymity." She knew she wanted to be a DJ since her first set over ten years ago — she says she "killed it!" Which is pretty good for your first time at anything. "I knew right away that's what I had to be doing. The rush was unmatched," she said. We spoke with her about travel, the perfect day, and being a late bloomer.
What would your Real Housewives tagline be?
What's that? I'm more of a Love and Hip Hop/Kardashians kinda girl.
If you were running for office, what would your campaign song be and why?
"Blessed" by Beenie Man. Positive vibes only.
What kind of animal would you be and why? 
I'd love to say a puppy so I can spend all day having people willingly play with my hair and massaging me, but I'm more of an awkward flamingo who can fall asleep standing up.
What are you excited about right now?
Travel 2020. Plans so far include an epic family history trip to India and a DJ workshop tour in the Middle East together with [rapper] Chippy Nonstop. I'm excited about a couple other things too, but I'm not trying to jinx anything, so for now my lips are sealed.
What are the last three songs you've listened to?
When I'm not searching for new shit to play at the club, I'm honestly listening to the same emo playlists over and over and in my feels. The last three played on my phone are Cam'ron's "Daydreaming," Coco Rosie's "By Your Side," and Daft Punk's "Something About Us."
What's your idea of a perfect day?
An almond milk cappuccino, a Backwood, your funny friend, a long sunny walk, a sushi lunch, a matinee, a nap on a firm bed, microdose, an IMAX new release, bowling/arcade combo, walking my friends to the party, not going to the party (unless I'm working).
If you could master any skill (that isn't related to your current job), what would it be and why?
Being a chef! I already have a taste (pun intended) of providing a space for people to escape and let loose. So if it wasn't in the music/nightlife industry, then I'd have to resort to my other love — food.
What goal are you working towards at the moment?
Travel. As corny as it is, I'm big on developing my global community and investing in our shared economy. I've been on a roll this year in visiting, and playing, in a bunch of new cities. Continuing with that is the current dream. Also, being more confident in learning new skills related to my craft is a huge goal as well.
What three fictional characters do you relate to most?
The main character from Bend It Like Beckham, Fresh Prince, and Daria.
What piece of advice has had the biggest impact on you and why? 
"Be yourself, but don't be shitty about it!" I wasted a lot of years feeling ashamed of who I was and minimizing the impact I was having on those around me. I'm thankful for the lessons, and have come to terms with being a late bloomer.
Nino wears a Dries Van Noten suit, Arthur Arbesser turtleneck, and Fendi boots.