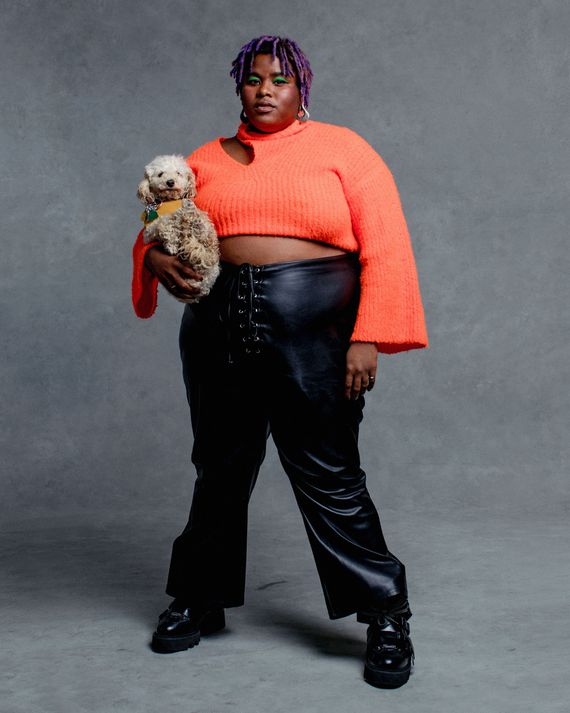 Like Maya Angelou, Precious Okoyomon stopped talking when she was 8 years old for a year. Okoyomon is also a poet, and started writing poetry during that silent period. "I would write poems and put them in trees and dig holes in the ground and plant them in the earth," she said. "These poems were my only form of communication for a year. Everything I wrote was a poem." As an adult poet, she's performed or been exhibited at Moma PS1, and in Parisian and London galleries. Her first book is called Ajebota, and she's working on her next, titled But Did You Die, from Wonder Press, out February 1. Her work is alternatively devastating and pithy, with titles like "The image of blackness is the violence of whiteness," "Desire will run its course," and "I finally Understand what Drake is Talking about & It's depressing as Fuck." We spoke with her about politics, her toy poodle Rainbow (pictured above), and the study of ants.
What would your Real Housewives tagline be? Pious badboi.
If you were running for office, what would your campaign song be and why? To believe in politics or political recourse would be a tragedy so massive that it could not be saved even by music.
What kind of animal would you be and why? My toy poodle Rainbow. I live only as the extension of his being.
What are you excited about right now? Wild pink peppercorns.
What are the last three songs you've listened to? "How Will I Know" by Whitney Houston, "Bad Guy" by Billie Eilish, and "Gravity" by John Mayer.
What superpower would you have and why? Disintegrating fear into self-fragilization.
What's your idea of a perfect day? Every day is as perfect as it is perfect as it is.
If you could master any skill (that isn't related to your current job), what would it be and why? Myrmecology, the study of ants.
What goal are you working toward at the moment? Ending the world.
What three fictional characters do you relate to most? King Lear, Christopher Robin, the ladybug from A Bug's Life.
What piece of advice has had the biggest impact on you and why? My friend Babak said, "How do you get to a place that doesn't exist? You do it through time. Not the time you spend but the time you make. Time makes time."
Precious Okoyomon wears a sweater by Beaufille and earrings by Marni.