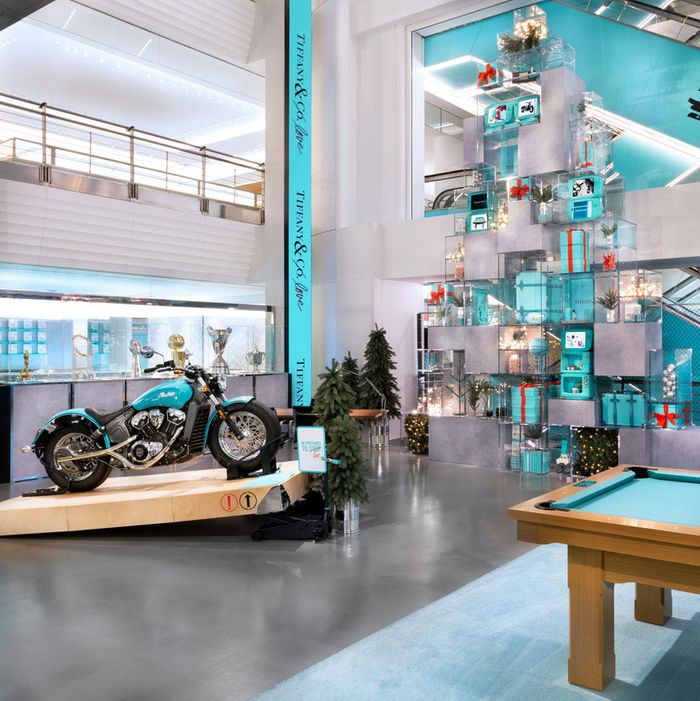 Photo: Courtesy of Tiffany & Co.
In the past, if you saw a man shopping at Tiffany & Co., chances were he was buying something for his wife, or his girlfriend, or maybe even his goomar. Maybe he'd buy himself some cuff links or a money clip, but nothing flashier.
Today, that same guy might feel differently about walking into a jewelry store. Everyone from NBA players to Diplo is dripping in diamonds. Men like Harry Styles are wearing single earrings on the red carpet, and in real life. There are even cool places for men to get their ears pierced. And from December 5 through January 6, even the manliest men can shop in peace at the brand-new Tiffany Men's pop-up 6 on East 57th Street in New York.
Tiffanys debuted it's first-ever men's collection back in October with a launch party in Los Angeles, where Jeff Goldblum had the opportunity to wear a $110,000 diamond Tiffany's pineapple brooch. The pop-up, though, is a preview for what will be Tiffany & Co.'s two-year home during the transformation of its Fifth Avenue flagship. There, diamond-curious dudes will find Tiffany dog tags and thick bracelets, but also Tiffany-branded barware, a Tiffany's pool table, a Tiffany motorcycle, and even limited-edition Tiffany x Spalding basketballs. If men can't find something for themselves here … well, they simply can't be helped.