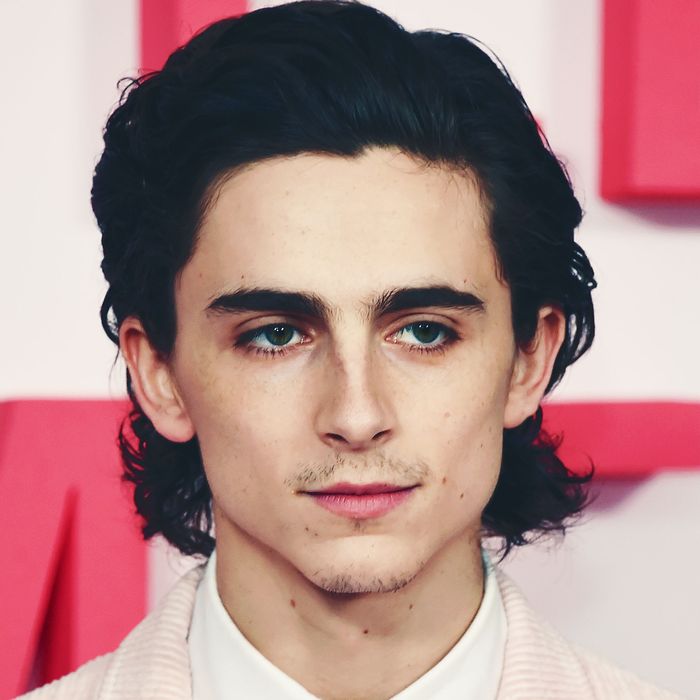 Photo: David M. Benett/Dave Benett/WireImage
It's rare that we see Timothée Chalamet dressed casually. He's more often on the red carpet in a suit or a bib or a sequined hoodie that he texted Virgil Abloh about directly. He even makes overalls look fancy.
Over the weekend, though, Chalamet pulled a real "just like us" move by attending the Uncut Gems pop-up shop in Manhattan's Diamond District, where the film takes place, dressed in a hoodie and sweatpants. There he browsed bedazzled Furby chain necklaces and all things Adam Sandler. He also took a fan-boy photo with the film's co-director Josh Safdie.
It's no surprise that the young actor is (1) obsessed with the New York–based film and (2) obsessed with the New York–born directors who made it. (In addition to being very publicly French, Chalamet is constantly reminding us that he's from Hell's Kitchen.) What does come as a surprise, though, is that Chalamet wore a millennial-pink Glossier sweatshirt for the occasion.
Yes, just like every other 20-something with a bank account, Chalamet is interested in getting his skin right. But who knew Glossier Milky Jelly was to thank for Li'l Timmy Tim's smooth jawline?? Can you imagine him waiting on that long line in Soho just like everyone else? I thought he'd be more of a La Mer guy, though, or anything fancier.
Chalamet paired the millennial-pink merch with a Prada puffer coat, Stella McCartney sunglasses, and green sweatpants. The look was very "Frank Ocean goes to the Met Gala." (Frank Ocean is also a skin-care guy.) But Chalamet has been wearing a lot of millennial pink lately for his Little Women tour. Perhaps Glossier caught on and sent him a hoodie. Or perhaps he's really into simple skin-care solutions. Either way, we kinda want some Glossier merch now.