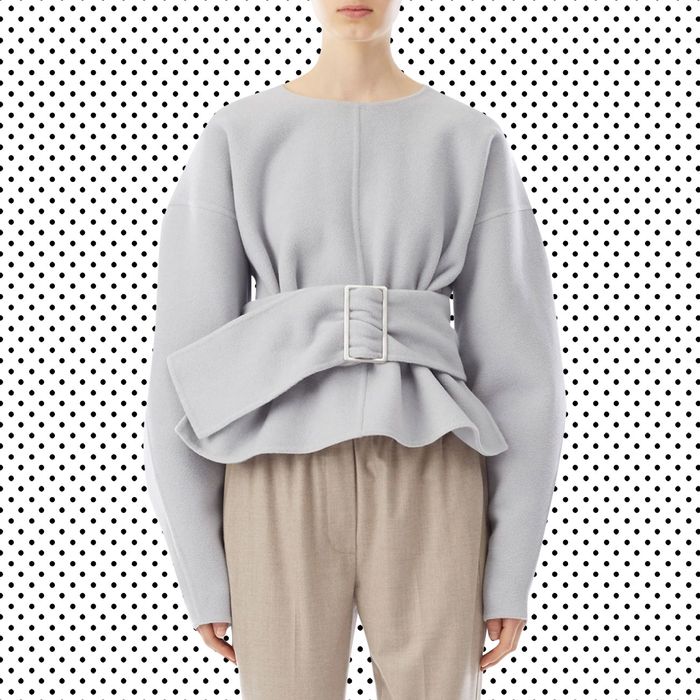 Photo: Courtesy of the Retailer
The oldest article of clothing in my closet is a giant gray wool sweater I got senior year of high school. Its warm, amorphous contours have served as cocoon through many Chicago and New York winters, perfect for layering under and over. It has led me to believe that the perfect piece of clothing for winter months is a giant gray sweater, and that I should own more than one. The belted sweater from 3.1 Phillip Lim caught my eye for two reasons — one, it looks cozy enough to make me feel like I'm being swaddled in wool, and two, the wool in question is sustainable, which is always a plus.
This sweater in question is part of the Phillip Lim Merino Series. The brand partnered with Woolmark to make a collection created from 82 percent natural fibers, specifically Australian Merino wool, which is a renewable and biodegradable material. I'm also curious about the wool denim jeans in the collection, which sound warm and wearable. Or the cozy sherpa vest that looks like a giant shearling cloud. But in terms of a piece I'll reach for again and again — a piece worthy of investment — I keep coming back to the sweater. The giant belt feels fashionable, but not so trendy that I'll get bored of it. It also gives it a bit of shape and definition. It is gift giving season, after all — maybe I should give one to myself.
If you buy something through our links, New York may earn an affiliate commission.