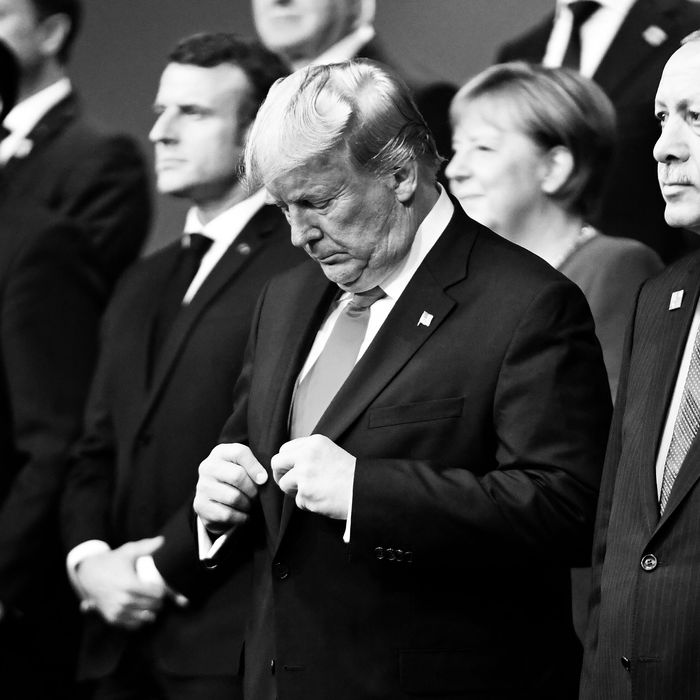 Photo: Jeremy Selwyn/Getty Images
Trump has a solid track record of being embarrassing and embarrassed during his closely watched visits to Buckingham Palace — I mean, he wore the world's tiniest jacket to dinner with the queen over the summer. This time was no different as fellow world leaders, attendees of this week's NATO summit, seemed to laugh among themselves at Trump's behavior.
On Tuesday evening, several heads of state were recorded on a hot mic apparently talking shit about Trump and the clip quickly went viral. The video shows Canadian prime minister Justin Trudeau, British prime minister Boris Johnson, and French president Emmanuel Macron apparently discussing Trump during a reception at Buckingham Palace, though they never directly named him. Macron is heard saying, "Is that why — is that why you were late?" Trudeau then replies, giddily, "He was late because he takes a 40 minute — 40-minute press conference off the top." Then the footage cuts to Trudeau saying, "I watched his team's jaws drop on the floor." (Trump had held an rambling, unscripted press conference prior to the event.)
Trump has already responded to the video by calling Trudeau "two-faced," which is pretty tame for him. On Wednesday Trump also canceled a scheduled press meeting, announcing that he would be heading back to Washington at the end of the day's meetings. Trump tweeted, "We won't be doing a press conference at the close of NATO because we did so many over the past two days."
That same night, a video began circulating of what seemed to be the queen chiding her daughter Princess Anne for not properly greeting Trump at the reception; Anne, standing in the corner, sort of shrugs in response. But several royal experts and reporters questioned this interpretation, reporting that the queen was merely asking her daughter who else was in line to meet with her. In response the princess can be seen raising her hands and saying, "It's just me … and this lot."
Anyway, my takeaway is that all politicians should be hot-mic'd at random as a routine occurrence. Otherwise we the public are left reading handshakes between dignitaries as if they were tea leaves or oddly shaped clouds. I want the real dirt!