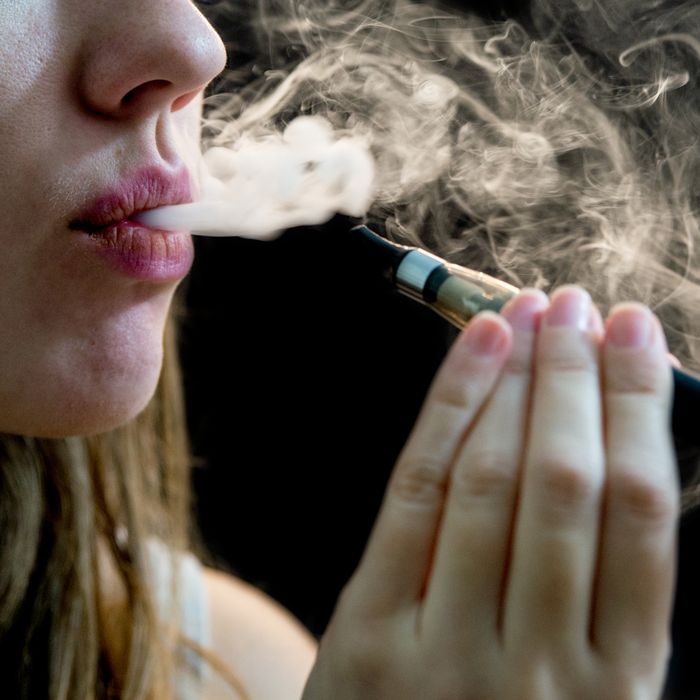 Photo: ljubaphoto/Getty Images
In a survey that provides mostly good news — teenagers are drinking less alcohol and trying fewer hard drugs — there is also the troubling finding that teenagers are vaping (both cannabis and nicotine) at almost twice the rate they were last year. The survey, which covered a nationally representative sample of eighth-, tenth-, and 12th-graders, found that 14 percent of 12th-graders reported vaping cannabis in the past month, up from 7.5 percent in 2018.
The number of teenagers who admit to having vaped cannabis once or more in the past year also doubled in recent years, rising to 7 percent for eighth-graders, 19.4 percent for tenth-graders, and 20.8 percent for 12th-graders. This increase in consumption is cause for extra concern if teenagers are vaping illicit, black-market THC, which has been linked as a likely culprit to hundreds of vaping-related illnesses and 52 deaths (including one teenager) over the past year.
This year's survey also included a question on daily cannabis use, with 3.5 percent of 12th-graders, 3 percent of tenth-graders, and 0.8 percent of eighth-graders saying they vape cannabis daily. The survey found that nicotine vaping among teenagers continues to surge: 9.6, 19.9, and 25.5 percent of eighth-, tenth-, and 12th-graders, respectively, reported vaping nicotine in the past month.
Silvia Martins, an associate professor of epidemiology at Columbia University, told the Times she suspects the increase in both types of teen vaping has a lot to do with the devices' sleekness and ease of use and the mistaken belief that they pose no health risk at all.