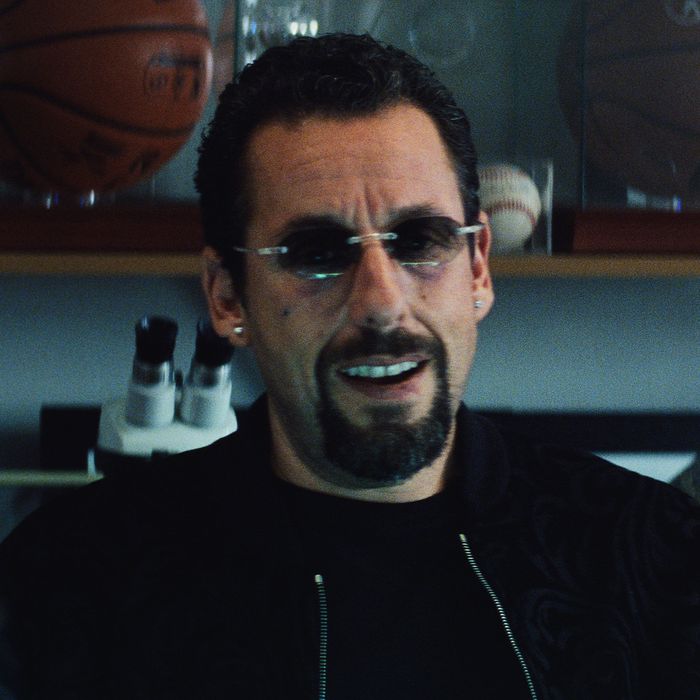 Photo: Courtesy of A24/©A24
There is a scene early on in the Safdie brothers' new film, Uncut Gems, when its star, Howard "Howie" Ratner (Adam Sandler), crawls into bed with a beautiful young woman half his age, played by Julia Fox. She's just done a photo shoot with the Weeknd and wants to tell him about it. "What the fuck is the Weeknd?" Howie yaps. "This guy looks stupid."
In 2012, when the film takes place, the Weeknd was on the verge of becoming a big deal. (Despite him being Canadian, as Julia points out.) The audience knows this, which is why that scene is funny, but Howie could care less. He's going 100 miles an hour in his own lane, making decisions that everyone else thinks are "stupid," like fashioning a Furby out of diamonds, or wearing a shirt that he thinks is gold, but is really mustard. But it's Howie's passion for the uncool that gives him an authentic sense of taste. Fans fawned over his "schmuck" style as soon as the film's trailer came out. Some even found his blind confidence attractive. Personally, I was convinced by his review of the Weeknd. Yeah! I thought. That is a stupid name.
Josh and Benny Safdie, the brothers who directed Uncut Gems, are known as meticulous researchers, basing their films on real-life characters, and sometimes casting them as well. Costume designer Miyako Bellizzi visited New York's Diamond District, where the film takes place, on countless occasions, taking notes on all the rimless Cartier glasses and Ferragamo belts she saw. She also consulted New York's "reluctant anthropologist," Mordechai Rubinstein, also known as Mister Mort, on the subtleties of Bukharan Jewish male closets. As a result, Howie's style feels ridiculous, but not to the point of parody. It's real because it's just a little off.
One of my favorite outfits in Uncut Gems is the one Howie wears to the Weeknd's concert at 1OAK. Because Howie exists in his own universe, he shows up wearing what he thinks is a snazzy outfit: a salmon-pink silk button-down shirt, wide-leg Zenga pants, tinted glasses, and square-toed Ferragamo shoes with gold buckles and a matching belt.
"If you think of that midtown guy who's a little out of the loop in terms of fashion, his idea of going to a club means him wearing that outfit," costume designer Miyako Bellizzi told the Cut. "I've seen it."
What makes this look so successful is its specificity. Those tinted glasses in particular are something you would only find in the Diamond District. You would not, for example, ever catch an Italian mafioso wearing a pair.
"That's how they show off their wealth: through glasses, or a watch, or a belt and shoes," Bellizzi explained. And flaunting wealth is paramount for these guys. Because they sell Cartier watches, Bellizzi also suspects that many Diamond District dealers probably get good deals on the frames. "They know a guy," she said. "You know?"
Howie may be brazen, but he's not super flashy, so Bellizzi kept his Cartier ice to a minimum. But for the Weeknd concert at 1OAK, he brought out the tinted glasses. "We debated," Bellizzi said of the choice. Is he that guy? But ultimately, they decided: Yes. Yes he is. "It's his way of showing that he's cool," Bellizzi added. "It's a status symbol as much as a watch."
In a hilarious twist, tinted rimless glasses might actually be cool now. Kylie Jenner is a fan. Bella Hadid, who just so happens to be the Weeknd's ex-girlfriend, just launched her own line of them with Chrome Hearts this month. Maybe it's a flattering homage to Howie, though I'm sure he'd say "What the fuck is Bella Hadid? Those glasses look stupid." He doesn't know is that in 2019, that's actually the highest compliment.