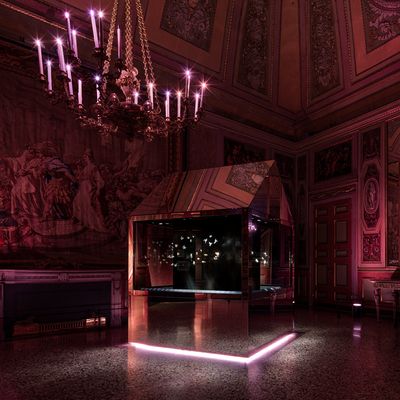 Photo: Courtesy of Van Cleef & Arpels
How do you translate abstract concepts like multiplicity, lightness, and exactitude into a jewelry exhibit? It's a question Van Cleef & Arpels aims to answer in their new museum show. Called Van Cleef & Arpels: Time, Nature, and Love, the massive 400-piece display took three years to curate and can now be seen at the Palazzo Reale in Milan.
The show was curated by Alba Cappellieri, professor of jewelry design at Milan Polytechnic University and Director of the Vincenza Museum of Jewelry. She was inspired by a series of lectures written by famed Italian writer Italo Calvino in 1985. Entitled Six Memos for the Next Millennium, the works discussed the values art should embody in the future. While Calvino only completed five before his death, Cappellieri felt that the same ideas translated perfectly to jewelry.
In total, there are ten values that serve as the outline for the exhibit. Five are taken from Calvino's work: lightness, quickness, exactitude, visibility, and multiplicity. Cappellieri adds on five more: Paris, exoticism, dance, couture, and architecture. Every piece chosen is defined by one of these ten qualities.
So where does the title — Time, Love and Nature — come in? Consider them the big ideas that guide you through the rooms. You enter through a section devoted to Time before moving through Love, and then you exit through Nature.
Beginning with time seems like an obvious starting point, but Cappellieri notes, "Jewelry has a controversial relationship with time — you want to be able to pass it from one generation to another but you also require objects to be a part of the present." To illustrate the tension, the section highlights pieces that date back to the founding of the brand, in addition to more contemporary pieces.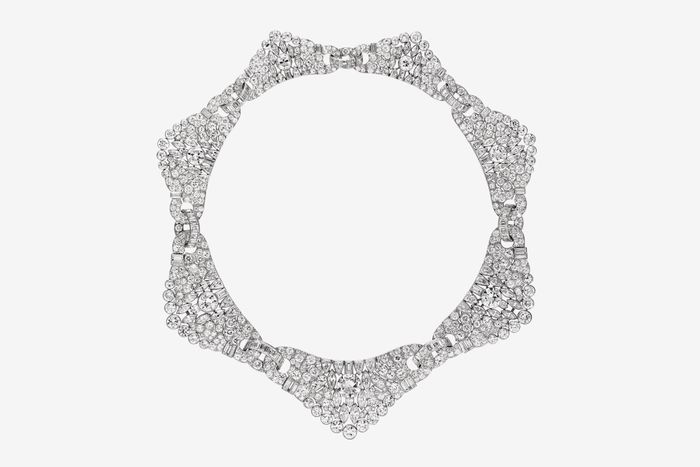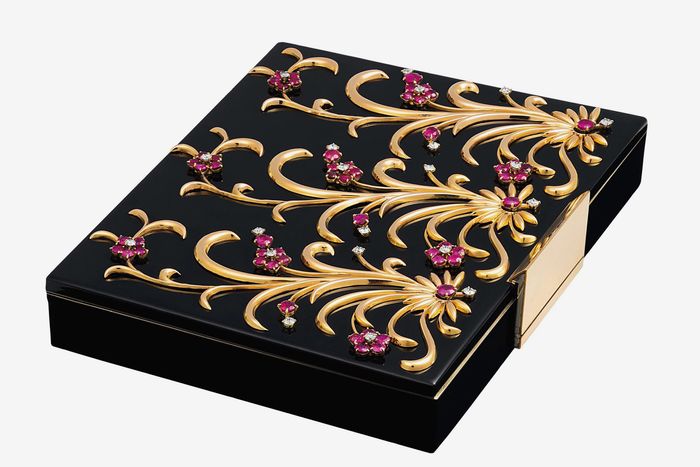 Standouts from this section include a 1928 diamond choker that combines a blend of baguettes, marquise and brilliant cuts in an Art Deco design that looks especially light. There's also a spectacular emerald necklace dating to the 1970s which embodies exoticism — it was owned by an Indian princess and can transform into a choker, two bracelets, and a clip.
The most fascinating item is the minaudiere, designed in 1933 for the wife of a railroad magnate. In 2019, countless brands call their tiny clutches by that term, but it was actually coined by Alfred Van Cleef in honor of his wife Estelle Arpels. The slim case was originally meant to fit everything a society lady needed, like a comb, cigarette lighter, and pillbox.
Considering how much of the show is devoted to the brand's past, there are a number of pieces that seemed plucked straight out of 2019. One of the rooms is devoted to non-jewelry items like clocks, cigar holders, and night lights. In shades of pink, green and black, it's the stuff of Instagram dreams but actually date back to the '30s, '40s, and '50s.
For fans of celebrity jewels, the Love section includes two major pieces. The first is a tiara owned by Princess Grace of Monaco. Worn in honor of her daughter Caroline's wedding, it can also be converted into a necklace. The other is a lion choker given to Elizabeth Taylor by Richard Burton to mark the birth of her first grandchild. Affectionately known by the couple as the granny necklace, it can convert into two bracelets and a pendant.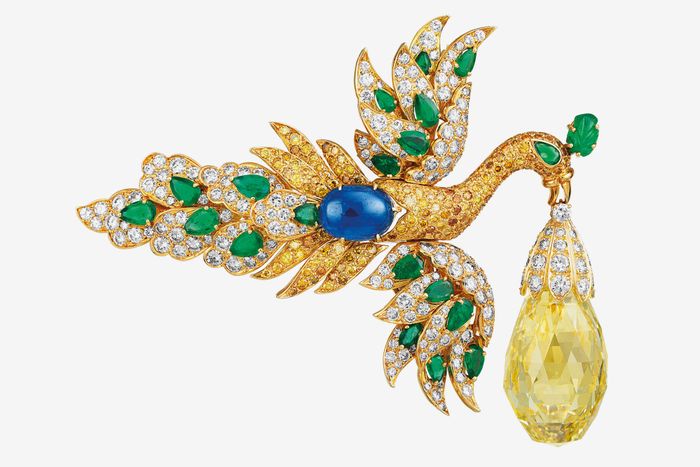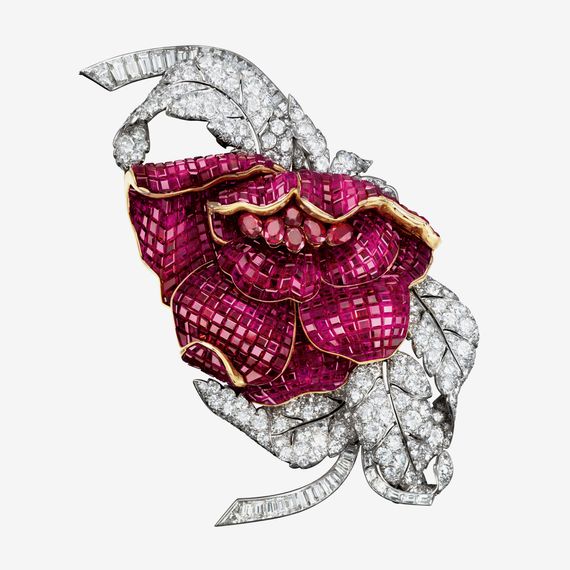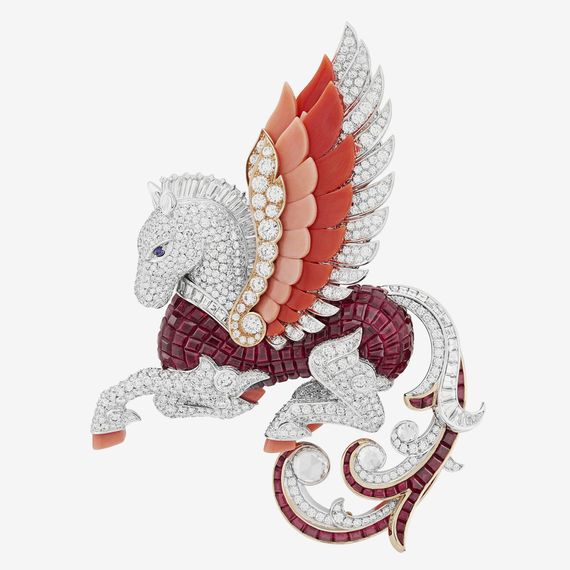 Finally, the viewer enters the nature section. Throughout the brand's history, they've always created clips inspired by real-life flora and fauna, not to mention fantastical creatures like the phoenix. They're all gathered here and some even have their own celebrity backstories, like a ruby floral clip favored by opera star Maria Callas.
Displaying over a century's worth of jewelry in a Renaissance palace could feel stuffy, but the brand asked artist Johanna Grawunder to create ultramodern exhibit cases. The combination of neon lights, mirrors, and Plexiglas creates deliberate contrast to the tapestries lining the walls.
The exhibit will run until February 23, 2020 but even if you're not in Milan you can check out some images below.