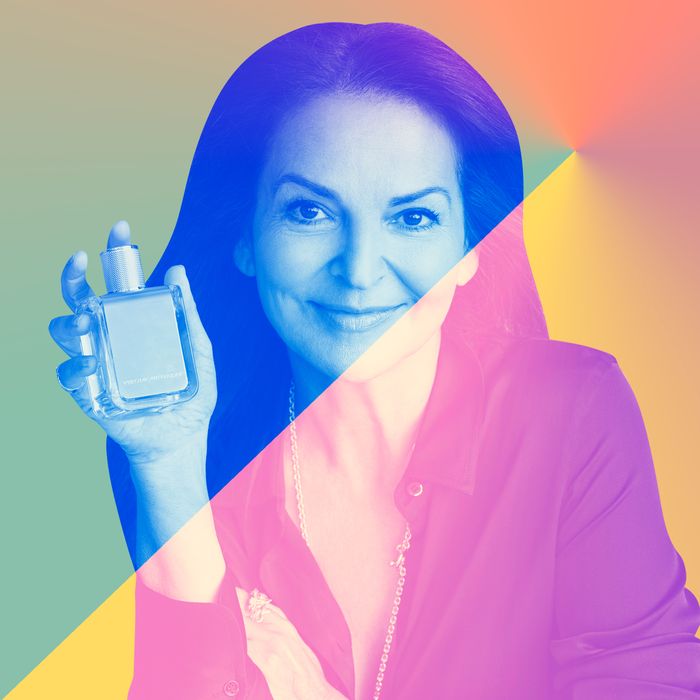 Photo: Courtesy of Veronique Gabai
Growing up in the South of France, Veronique Gabai-Pinsky was a wannabe perfumer.
"As a child, I'd crush plants and flowers, then mix them with vinegar, or olive oil," she recalls. "Of course, that didn't work, but I was desperate to make fragrances."
Gabai-Pinsky knew she wanted a creative career, but also knew her parents wanted their daughters to become doctors or lawyers or pharmacists, so she went to business school.
"I started with a focus on finance, but was bored to death," she remembers. "When I moved to marketing and communications, I found my place."
She was recruited by Procter & Gamble's Paris office, but quickly moved on to L'Oréal, where she first got to work on her first love, scent. She launched Giorgio Armani's Acqua di Gio, then joined LVMH, where she oversaw Guerlain, adding hits like its Aqua Allegoria franchise.
Then love intervened. American love.
She moved to the States, married, and made her mark at the fragrance house, Dracoco, until a client by the name of Lauder offered her a job. She worked on Donna Karan Fragrances, where she launched DKNY Be Delicious, brought Tory Burch and Zegna into the Lauder fragrance fold, and helped acquire niche brands, like Le Labo and Frederic Malle.
After 13 years, she switched to fashion and became president of Vera Wang. At some point, she realized that she didn't want to become CEO of a brand. She wanted to be a brand.
"I had always been afraid of going into fragrance because of what others would think," she admits. "But with age, that fear fades away and you become more mature, more confident."
She launched Veronique Gabai in September. It's a collection of nine fragrances are inspired by elements of the South of France, plus two boosters — a citrusy vibrant one, and a sensual musky one — along with candles, lotions, and jewelry with which to carry the scents, all of which Gabai-Pinsky encourages blending.
"I want people to find their own signatures in these fragrances," she says. "These are tools to express their personalities and personal style rather than me imposing mine on them."
Gabai spoke with the Cut about her favorite non-color, why she is always in heels, and the water bottle shame she carries with her.
What's your definition of beauty? 
That subtle difference that enchants the senses and lifts up the soul.
What do you think when you hear the term "clean beauty"?
Beauty that does all it can to keep the world beautiful.
Where, if anywhere, in your beauty (or life) routine are you not quite that "clean," "green," or "sustainable"? i.e., are there old-school products or elements that you just can't quit?
One of them is water plastic bottles. Really trying to change how I drink water. My son's disapproval might shame me enough to help me get there.
 
Please fill in the blank as it pertains to something connected to your beauty or wellness routine: I think about ____ a lot.
Light, luminosity, and radiance.
 
What is the opposite of "beautiful"? 
Mediocre.
 
What is your morning skin-care routine?
I drink water and moisturize my skin with Estée Lauder Supreme Creme.
 
What's the last beauty product you use every night?
I use Estée Lauder Advanced Night Repair, Supreme, then a moisturizing cream, and I drink a glass of water.
 
Who makes the best eye cream?
Sleep.
What aspect of your beauty routine tends to be neglected?
Sports and fitness.
 
What, if anything, is usually on your lips?
Lipstick. Always. Bobbi Brown Bellini, Tom Ford Jasmine Rouge, and one I'm working on.
 
What shade, if any, is usually on your toes and/or hands?
Mademoiselle by Essie on my hands, Black OPI on my toes. My manicurist is desperately trying to make me change. She has gotten bored.
 
 What makeup item would you never skip?
Lipstick. I never skip it.
 
Facial cleanser of choice:
Bioderma Micellar water.
 
Bath or shower? 
I prefer a shower. And I love the cleansing shower oil I am currently working on. I swear it makes the skin unbelievably soft and glowing. Coming soon!
 
What discontinued product do you mourn?
Compact foundation by Francois Nars. My shade was Barcelona. I am crying for you, Barcelona.
 
What beauty product still needs to be invented?
The universal fountain of youth. Just kidding.
What was your first beauty product obsession? 
My mother's scented body cream. It was Shalimar by Guerlain. It came in this beautiful blue color jar, it smelled divine, and I truly believed it had magical powers. I was 5, and it got me hooked on perfume for life.
Daily carry-all:
Saint Laurent and I still love my Reed Krakoff. Also, my husband is launching a bag line, Tic Tac Toe, soon.
Wear eyeglasses? Who makes your frames?
Prescriptions frames by Vera Wang. Sunglasses by Selima Optics.
How do you like your bed?
Neatly made every morning, passionately undone every night.
How do you like your living room?
Emptied of stuff, filled with people.
What do you splurge on?
Shoes. I know I am not alone in that disease, but it is not a consolation.
What do you scrimp on?
I don't care about cars. Anything that takes me from point A to point B will do. Sharing is totally fine.
What is your classic uniform?
Black will always be the new black for me. Leather Saint Laurent pants, Givenchy or Vince silk shirt, Gucci belt, Vince or YSL coat, and my pendant that contains my fragrance.
What shoe are you usually wearing?
High heels. Saint Laurent, Gianvito Rossi, Prada. I am ridiculously short. They do help.
Current favorite fashion item in your closet:
Sandals … so I can believe I live in endless summer.
What do you own too many of?
Black sweaters. And shoes.
What color is your usual pop of color?
Does black count as a color? Once in a while I will be unfaithful to my overall black and wear a white shirt. And in the summer, when I am tanned, I might go wild and wear a blue or a red dress.
What are the first three things you do when you get home from work? Put on the light if it is dark, drop my bags, open my terrace door. I am lucky as we have a big terrace planted with trees. Coming home is like going out in a secret garden.
If you were a makeup shade, what shade would that be?
Gold.
Any hidden or secret talent or skill you possess?
I draw. My hands take control over my brain and I forget everything.
What is your own personal definition of misery?
Mediocrity of character.
What is your own personal definition of glee?
Sunshine, literally and figuratively.
What would the name of your autobiography be?
To Life!
 
Who would star as you in the film adaptation?
Anouk Aime, Monica Bellucci, Marion Cotillard. Or Juliane Moore, even though I would hate for her to change her hair color.
Favorite smell?
The scent of Rose de Mai … in my Noire de Mai.
Least favorite smell?
Raw meat. Boiling milk. They make me sick on the spot.
What do you think Pantone's color of 2020 should be, and why?
A turquoise azure blue, the color of the blue in Cote d'Azur. A mix of turquoise and royal blue. Shades of blues, from celadon to turquoise to royal, inspired me for the brand. Blue is the color that allows you to really breathe and ensure calmness and capacity to be creative.
What calms you down?
The sea. Preferably the Mediterranean.
Favorite cheese:
Sainte Maure Goat Cheese. I can't resist a slice of Sainte Maure. Delicious alone, with a crisp green salad, walnuts, or even with a touch of curry spice.
Comfort food:
Very dark chocolate. Ninety-five percent cacao is my favorite.
Vice snack (or just vice):
Licorice.
Most impressive dish you make:
Black ink sea food pasta. Zucchini risotto. And the best salad niçoise ever.
What food would you never eat?
Raw meat. I don't care if you call it steak tartare. It is still raw meat.
What do you foresee as the top beauty trends for 2020?
Wellbeing. 2020 will be politically toxic. We will all need a way out.
 
What product is currently your favorite (understanding that this could change all the time)?
My Goldie Highlighter. It disperses gold dust wherever I want it, eyelids, cheekbones, décolleté. It adds immediate glow, plays with the light, illuminates the face. Call me vain, it makes me happy like a little girl.
 
If you won the Power Ball tomorrow, what are the first five things you would do? (after, of course, donating the majority of it to your top charities…)
I would share a good part with the people I care about the most, my family, my close friends. I would finally build my dream house in the Cote D'Azur, big enough to invite them all and more every summer. I would accelerate my forest project (I own a forest, a part of which I want to transform into a sustainable flower and plants farm for the perfume and well-being industries and a center of education for kids). I would never stop working, but I would invest in creative endeavors no conventional investor would ever tolerate, just because someone has to believe. And I would hire a chef to eat well and stay fit and lean.
Not to get too philosophical, but … what do you want?
Love. To give and to get. When all is said and done, isn't it what we all want?