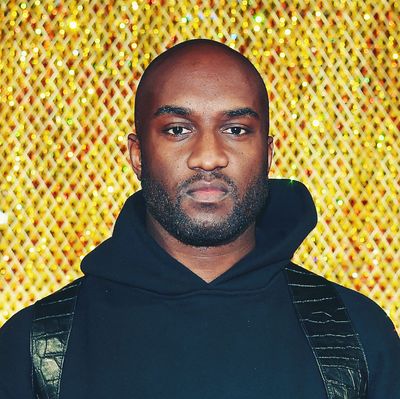 Photo: Antony Jones/BFC/Getty Images
Virgil Abloh helped define the last decade in fashion. As the founder of Off-White, a brand known for luxury logo T-shirts and sneakers, he is often credited with convincing the luxury fashion world that streetwear should be taken seriously, as both a style and a culture. But he thinks calling his work "streetwear" is reductive.
"As a designer, you get confronted with the term of your generation which you have no control over," Abloh told Dazed in a new interview this week, following a three-month medical leave from his posts at both Off-White and Louis Vuitton, where he currently serves as men's artistic director. "From that frustration I decided if 'streetwear' was gonna be the sign of the times I was gonna define it rather than be defined by it," he continued. "I needed to do a show to define what 'streetwear' could be, and do it with urgency."
Abloh's goal has always been to design for his generation and the next, and for the last ten years, what interested him was elevating wardrobe basics like T-shirts, hoodies, and sneakers. (It all began with him screen-printing the name of his collective, "Pyrex Vision," onto the back of Ralph Lauren flannels in 2012.) But as we close out the 2010s, it's clear Abloh wants to keep pushing himself and his customers forward. He wouldn't be a successful designer if he didn't think this way.
When asked what he thinks will happen to the "idea of streetwear in the 2020s," Abloh responded to Dazed interviewer Emma Hope Allwood matter-of-factly: "Wow. I would definitely say it's gonna die," he said. "Like, its time will be up. In my mind, how many more T-shirts can we own, how many more hoodies, how many sneakers?"
Strong words! But Abloh has his finger on the pulse of what's next. And the future of fashion, he says, has actually already happened. "I think that like we're gonna hit this like, really awesome state of expressing your knowledge and personal style with vintage," he explained. "There are so many clothes that are cool that are in vintage shops and it's just about wearing them. I think that fashion is gonna go away from buying a boxfresh something; it'll be like, hey I'm gonna go into my archive."
The idea that we're headed for a "post-sneaker world" might be a hard pill for some collectors to swallow. But the good news for streetwear fans is that the style might soon be considered vintage, too.