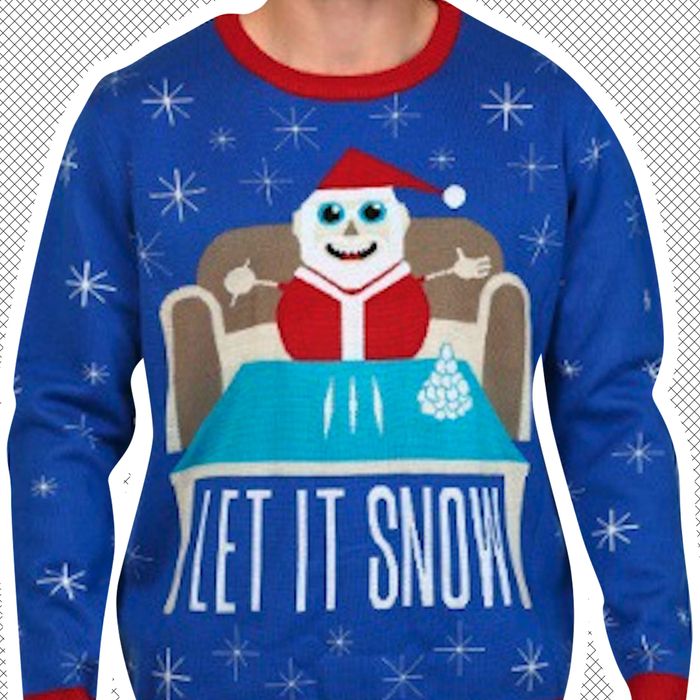 A festive holiday sweater depicting a jolly Santa enjoying himself at a friend's boyfriend's podcast party in Bushwick has been removed from the Walmart Marketplace website. Walmart apologized that the sweater, which says "LET IT SNOW" and shows a smiling Santa with dilated pupils kneeling in front of three lines of unidentified white powder, was made available on its website.
"These sweaters, sold by a third-party seller on Walmart.ca (our website in Canada), do not represent Walmart's values and have no place on our website," the company said in a statement Monday, CNN reports. It added that it had removed the products from its marketplace, and "apologize[d] for any unintended offense this may have caused." Also: "These sweaters were not offered on Walmart.com in the U.S."
The sweater was designed by the clothing company FUN Wear. Before it was taken down, the product description on Walmart's website read: "We all know how snow works. It's white, powdery and the best snow comes straight from South America."
The description doesn't explicitly say that the lines of white powder in front of Santa are cocaine. For all we know, they could be ketamine. Or just regular snow that Santa snorts up a straw as a bit, and it freezes his nostrils and gives him a brain freeze, and he goes, "Ow, ow, ow!" and all the elves laugh. Or, maybe Santa's friend took him to a housewarming party hosted by someone whose main claim to fame is that they hung out with Justin Theroux at a gallery opening once and this is what happened. We simply have no way of knowing. That's the beauty of art, as Justin Theroux would probably say at an art opening: It's open to interpretation.
Fortunately for anyone who had their heart set on getting this sweet sweater for a loved one, and was devastated by the news that Walmart had removed it from its site, Amazon is already selling a cheap knockoff.
Happy holidays.