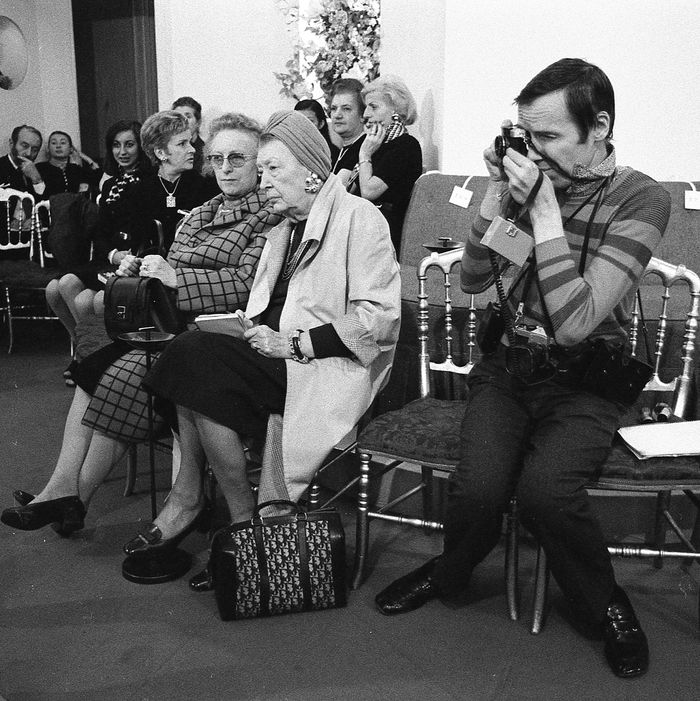 Bill Cunningham, Paris, 1971.
Photo: Harold Chapman/Topfoto / The Image Works
Before street-style photography was a cottage industry, it was just Bill Cunningham riding around on a bike. Known for cruising around New York City in his cobalt-blue jacket, snapping photos of expressively dressed Manhattanites, Cunningham was both anthropologist and photographer. And he was a fashion fixture. He's quite possibly the most beloved photographer in the industry — possibly because almost everyone had a fond Cunningham story.
Including director Mark Bozek. Cunningham invited Bozek to film him for a one-minute video for the CFDA awards. But the photographer wound up talking for four hours about his life in Carnegie Hall studios, his first camera, and his four decades working for the New York Times. That was in 1994. When Cunningham died in 2016, Bozek unearthed the interview and made it the center of a documentary, The Times of Bill Cunningham, narrated by Sarah Jessica Parker and featuring hundreds of Cunningham's photographs. It premiered in 2018 at the New York Film Festival but is just being released this Valentines Day. When it premiered, Variety called it, "a snapshot of a life that leaves you grateful for having encountered it."
Even though Cunningham was 65 years old when he gave the interview that anchors the film, he still seems astonished by all that's happened to him. One moment he's talking about girls breaking down Marlon Brando's door, the next it's on to Jackie Kennedy Onassis and her wardrobe. I have to say, watching it first thing this morning made me a lot more excited to get to work. Cunningham's wide-eyed, anything-can-happen attitude in the interview is infectious. Below is an exclusive look at the trailer, if you want to put yourself in a better mood.