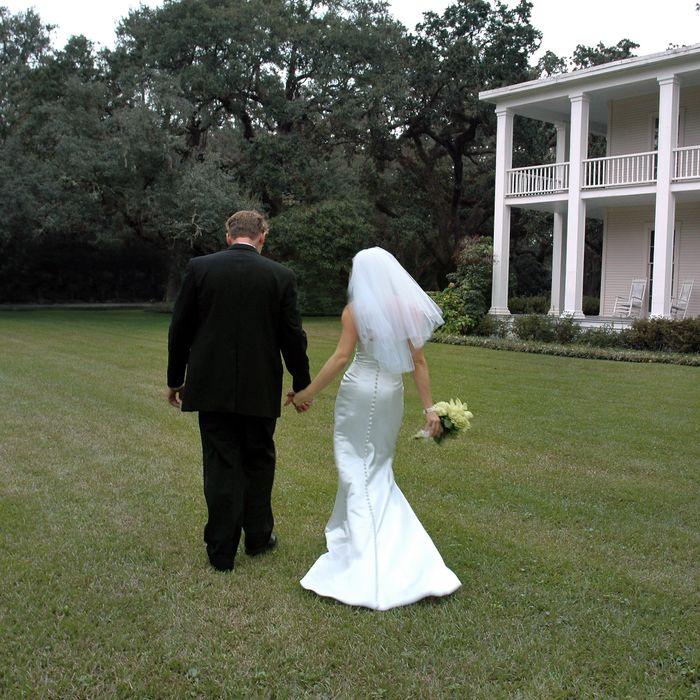 Photo: valliegurl/Getty Images/iStockphoto
A number of popular wedding planning websites have announced they will cut back on language that glorifies former slave plantations as "charming" or "elegant" wedding venues, according to a new report by BuzzFeed.
Plantations continue to be popular wedding destinations in the American South; Blake Lively and Ryan Reynolds have long been criticized for their choice to get married at a former slave plantation in Charleston back in 2012. Yet until now, there has been little reckoning within the wedding industrial complex about re-appropriating sites of historical atrocities as venues for fairy-tale romance. "Declare Your Love In Paradise," reads the listing on the Knot for Magnolia Plantation in Charleston, South Carolina, which used slave labor for almost two centuries. "This vibrant garden setting is a breathtaking backdrop for couples to celebrate their partnership, creating unforgettable memories. The surrounding landscape boasts a rich history and culture, setting a sophisticated ambiance for couples to proclaim their love for another."
In response to a campaign by the civil rights organization Color of Change, five prominent sites — Pinterest, The Knot, WeddingWire, Brides and Zola — have promised to make changes to the way they promote plantations as wedding venues. "Plantations are physical reminders of one of the most horrific human rights abuses the world has ever seen," Color of Change wrote in a letter to these groups. "The wedding industry routinely denies the violent conditions Black people faced under chattel slavery by promoting plantations as romantic places to marry."
The decision comes at a time when many civic and cultural institutions such as schools and museums are reckoning with how best to grapple with America's history of racial oppression, as we have seen in the many fraught public battles over whether or not to remove Confederate Era monuments.
Brides and Zola said they plan to remove plantations from their lists of venues, while The Knot and Wedding Wire plan to still list these venues, but scrutinize the language they use to describe them. A representative from The Knot told the New York Times that they are working on new rules that will prohibit "using language that romanticizes or glorifies a history that includes slavery. Pinterest said they will not remove images from plantation weddings, but they will stop actively promoting these images through things like search engine optimization and email notifications, while adding a content warning saying "people have reported Pins from this search. Let us know if you see something that goes against our policies."