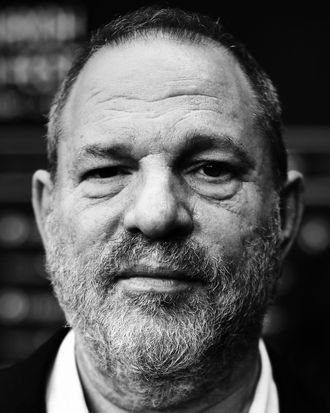 Photo: Alexander Koerner/Getty Images
Today, Megan Twohey and Jodi Kantor at the New York Times reported that Harvey Weinstein and other former board members of his company have reached a tentative agreement with Weinstein's accusers for $25 million dollars — a little less than the amount the disgraced producer sold one of his houses for back in 2018. Lawyers told the Times the deal would not force Weinstein to admit personal wrongdoing or pay his accusers anything out of pocket, which is — understandably! — making people very angry. But who, other than Weinstein himself, is to blame for this disappointing outcome?
The answer appears to come down to (1) the complex nature of bankruptcy law and (2) how useless our legal system is when it comes to compensating victims of sexual assault. Below, we try to parse some of the reasons for our rage.
Exactly which lawsuit[s] are we talking about here?
Most of the news stories you've read have likely focused on Weinstein's criminal trial, which centers on a 2013 rape accusation and a 2006 assault accusation; that trial will take place in Manhattan in early January. But civil litigation has been the only option for the bulk of Weinstein's accusers because of things like statutes of limitations and how difficult it is for prosecutors to win sexual-assault cases. The $25 million payout in question would be split among 30 actresses and former employees who have brought civil cases against Weinstein (including a class-action lawsuit) with the possibility of more joining later.
Where is this money coming from? 
While there were initially talks of a $90 million victims' fund if the Weinstein Company were sold outside of bankruptcy, that all changed when the company entered bankruptcy proceedings. (Some people blame disgraced former New York attorney general Eric Schneiderman for scuttling an earlier proposed sale.) Now that the company is in bankruptcy, insurance policies belonging to it and its directors are likely covering the entirety of the proposed settlement, including legal fees. Of an overall $47 million settlement, the Times reports that more than $12 million will go to legal fees for Weinstein and other board members, which is likely because of provisions in the insurance policies that cover the board's legal expenses.
Of the $25 million set aside for victims, the Times reports that $18.5 million would go to women who have joined a class-action case, and the remainder would be split among other alleged victims, based on the severity of their claims, with no individual getting more than $500,000.
Who gets the rest?
As a general rule, once a company files for bankruptcy, the company and its directors cede control over how its assets are allocated, and the secured creditors (e.g., banks that loaned money to the Weinstein Company in exchange for collateral) have to be paid in full before anyone else can get a penny. Based on the convoluted rules of a bankruptcy proceeding, "unsecured creditors" — like the victims — are forced to negotiate for their fair share of whatever money is left after the secured creditors have been paid.
Why are they getting such a relatively small portion?
Sadly, this figure isn't actually all that surprising. The reason these women have limited bargaining power is that the legal system makes it very difficult to win sexual-assault claims even in civil cases; indeed, many of the existing lawsuits are facing long odds after a series of legal setbacks, as Weinstein and other board members successfully moved to dismiss aspects of the plaintiffs' complaints. As the Times reports, "A combination of preliminary legal rulings against various plaintiffs, laws that protect boards against liability, and previous failed settlement efforts had put the women in a weaker bargaining position." There are more civil cases in progress that will continue — Ashley Judd has said she plans to take Weinstein to trial, and there remains the possibility that some lawyers will break away with their clients — but for most of his accusers, this is likely the end of the road.