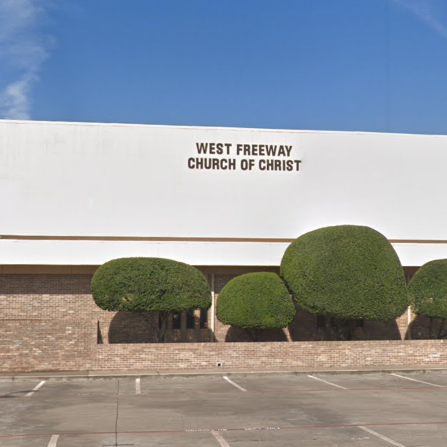 On Sunday, a gunman killed two people in the West Freeway Church of Christ in White Settlement, Texas, a western suburb of Fort Worth. Within seconds of launching the attack, the shooter was killed by the church's volunteer security guards.
White Settlement police were called during mass around 10 a.m., where the shooting was livestreamed on the church's YouTube channel as parishioners received communion. (The video is no longer available.) According to the Dallas Morning News:
The shooting was captured on a livestream of Sunday's worship service. In the video, which is no longer available on the church's Youtube channel, a person stands and pulls out what appears to be a shotgun, then fires twice before someone toward the back of the sanctuary returns fire.




Some congregants holding guns rushed toward the shooter, while others ducked under church pews.
WFAA reporter Matt Howerton provided a description of the footage before it was taken down:
One churchgoer who sat near the shooter before he began firing told the Fort Worth Star-Telegram that she had never before seen the man, who appeared to be wearing a disguise. Isabel Arreola, who was at church with her husband and 7-year-old daughter, said she could not fathom why the church was attacked.
"Our church is so giving," Arreola said. "We help the homeless. We help people get food, pay for car repairs. If he just needed something, I'm sure we would have tried to help him if he had just asked."
Anton Wallace, 64, was one of the men who died in the attack, his daughter told the local NBC affiliate. Tiffany Wallace said he father, a registered nurse, was rushed to the hospital but died before he arrived. Police have not confirmed the identity of either victim.
On Sunday evening, a church volunteer security guard who says he is the one who killed the gunman, wrote on Facebook that "evil does exist in this world and I and other members are not going to allow evil to succeed." Jack Wilson, a former deputy sheriff and owner of On Target Firearms Training Academy, is running to be a county commissioner. He posted this account on his campaign Facebook page:
Authorities have not addressed a possible motive in the attack or identified the shooter. FBI Special Agent in Charge Matthew DeSarno said Sunday that the man was "relatively transient" but had nearby roots. DeSarno also said the gunman had an arrest record, but did not say whether he had links to the church.
"Places of worship are meant to be sacred, and I am grateful for the church members who acted quickly to take down the shooter and help prevent further loss of life," Governor Greg Abbott said in a statement. In September, a new law went into effect allowing Texans to carry firearms in places of worship.
At a news conference Sunday, Lieutenant Governor Dan Patrick praised the heroism of the volunteer security guards. He said that the rampage was over in just six seconds thanks to a shot fired from one of the guards.
Texas has already endured two horrific mass shootings this year: a domestic-terror attack targeting Hispanic Americans at a Walmart in El Paso that killed 22, and a mobile rampage in Midland and Odessa that killed eight.
This is a developing news story and will be revised and updated as more information becomes available.