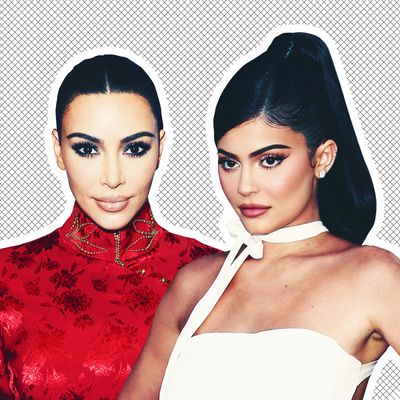 Celebrities may wear socks or fingerless texting gloves from time to time, but unlike the general populace they don't tend to give or receive these as Christmas gifts, opting instead for items only influence and lots of money can buy. This year's offerings ranged from an elaborate breakup tattoo to a Christmas snowmobile experience. What follows is a roundup of this holiday season's most ridiculously lavish celebrity gifts.
North West's Jacket
Kim and Kanye's 6-year-old daughter North West is both difficult to shop for (what do you get the kid who has everything?) and indisputably tiny. Neither of these factors, however, inhibited her mother from going out and getting her an adult-size custom velvet jacket that Michael Jackson wore to Elizabeth Taylor's birthday party in 1997 — just $65,625 at auction. "North is a really big Michael Jackson fan and we knew she would love this," wrote Kardashian in a recent Instagram Story.
"Page Six" reports that the jacket was altered so that North can wear it, and it can be slowly let out again as she continues to grow up.
Chris Evans's Dog's Sweater
Chris Evans got his dog the greatest gift of all: the chance to participate in a viral sweater meme. Earlier this month, images of Evans looking hot in a chunky white knit in his new movie Knives Out blanketed the internet, inspiring mass horniness, skyrocketing sales of sweaters that bear a resemblance, and even yielding a New Yorker article.
Now Evans, by his own admission, has given a version of that sweater to his dog, who looks forlorn in it — but also kind of like Armie Hammer?
Demi Lovato's Spirit Tattoo
Unclear whether this was technically a Christmas gift to herself or a benchmark that happened to coincide with the holiday season, but on Wednesday People reported that Demi Lovato had been inked anew with a tattoo representing "a birth of the spirit" — which is quite Christmassy if you ask me. Tattoo artist Alessandro Capozzi posted a photo of the body art on Instagram, explaining in the caption:
"The dark wings represent the bad times, their fading away is how she moved forward. The light from within represents the inner strength necessary for the change, and the doves, pulling her up symbolize the reach of an higher state of consciousness."
The tattoo reportedly took eight hours to complete and comes into this world mere days after Lovato's breakup with Austin Wilson, whom she'd been dating since at least November.
Priyanka's Batmobile
Technically what Nick Jonas got his wife, Priyanka Chopra, for Christmas is a snowmobile, but given Chopra's ecstatic reaction, the presence of a dude dressed like Santa, and the presence of actual snow, it feels like so much more.
On Wednesday, Chopra posted a picture of herself, her husband, and her new gift, writing, "Santa drove in on my bat mobile!! Aaaah! My husband knows me so well! Thank you baby. I love you!"
Jonas in turn posted his own Instagram tribute to the holiday gift, captioning it, "Nothing better than seeing her smile."
Stormi's Mansion
Kylie Jenner's daughter, Stormi Webster, is not quite 2 years old but already has her own property that's larger and more expensively decorated than most Brooklyn apartments. Webster's grandma Kris Jenner gifted her the "playhouse" last week. The backyard kiddie mansion features hardwood floors, a roof deck, and wall sconces.
But the bonanza doesn't end there: Stormi also received a toddler-size diamond ring from her mom. Baby mansion and baby jewels: a classic pairing.
Barring the last-minute purchase of an island, this remains the most ridiculous celebrity gift of the holiday season.