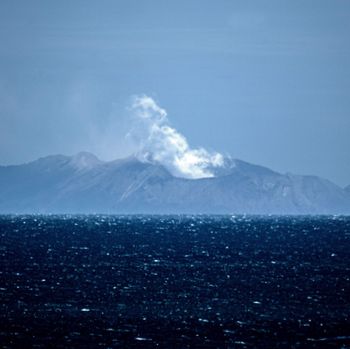 White Island volcano.
Photo: MARTY MELVILLE/AFP via Getty Images
On Monday afternoon, a volcano erupted on White Island in New Zealand, an uninhabited island that is visited by over 10,000 tourists a year. At the time of the eruption, 47 people were on the island. So far, police have confirmed that eight people were killed, but many more are missing or severely injured.
Here's everything we know.
White Island is New Zealand's most active volcano. On Monday afternoon, it erupted.
According to CNN, New Zealand is "located in one of the world's most tectonically volatile regions," and White Island is the nation's most active volcano. Every year, over 10,000 people travel to see the uninhabited island, which is located approximately 30 miles off the country's North Island.
On Monday afternoon, the volcano erupted, sending an ash plume thousands of feet into the air. According to police, the group included tourists from Australia, the U.S., New Zealand, and Germany.
Police have confirmed that eight people were killed, and many more are missing.
According to CBS News, eight people have died, but that number is expected to rise. As of Wednesday evening, 28 people are still in the hospital, many of whom suffered extensive burns to at least 30 percent of their bodies; this afternoon, New Zealand ordered 1,292 square feet of skin to treat the patients. According to local health officials, many victims are being treated for severe inhalation burns from sulphur dioxide, methane, and other chemicals.
"Some of the patients will have significant damage to their lungs," Dr. John Bonning, who is treating some of the victims, told the Guardian. "They are very, very ill indeed … Presuming they get to recovery, this is going to take months to years to recover from, with significant scarring and possible loss of function."
Per CBS News, another eight people who have been reported missing are presumed to be dead. (Police have not yet released the names of the victims.)
Some say tourists never should've been on the island.
Following the eruption, some are questioning why tourists were allowed to visit the island when volcanic activity had been detected in recent weeks. (According to CNN, however, scientists say they did not expect the volcano to erupt.)
"White Island has been a disaster waiting to happen for many years," Monash University volcanologist Raymond Cas told CNN. "I have always felt that it was too dangerous to allow the daily tour groups that visit the uninhabited island volcano by boat and helicopter."
This post has been updated.