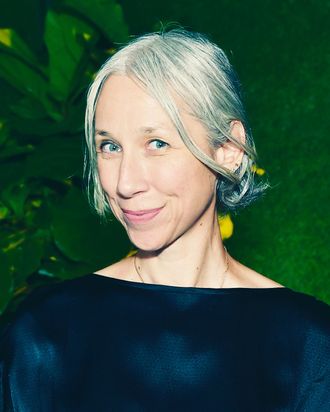 Photo: Getty Images for SUTTON
Los Angeles–based artist Alexandra Grant and one-half of beloved internet couple KeaNdra (I just made that up) took to Instagram to speak out against potentially damaging beauty standards. In the process, the silvery haired 46-year-old also explained why she doesn't dye her hair.
Posting a screenshot of a Newsweek article that reports on a study released this week which potentially links breast cancer to hair dye — particularly among black women — Grant wrote (while using the inclusive word "womxn"):
Wow. Today's news … The numbers are staggering, especially for womxn of color. I went gray prematurely in my early 20's … and dyed my hair every color along the way until I couldn't tolerate the toxicity of the dyes any more. In my 30's I let my hair turn "blonde" … I love and support that every womxn can choose how she wants to look at every age. But/and, if womxn are perishing from beauty standards … then let's talk about those beauty standards. Love to all womxn!
While the study's results continue to be analyzed, Grant remains a gray-hair icon.