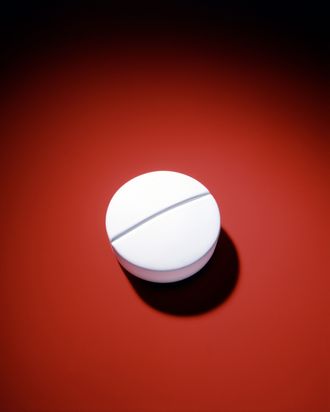 A Minnesota woman says she had to drive three hours in a blizzard to fill a prescription for emergency contraception after two other pharmacists refused her.
Photo: Nicholas Eveleigh/Getty Images
A Minnesota pharmacist reportedly denied a woman the morning-after pill on grounds that doing so would violate his unspecified "beliefs," eventually obligating her to drive three hours in a blizzard to fill her prescription.
That woman — Andrea Anderson, a resident of a small town called McGregor and a mother of five — filed a lawsuit with Minnesota's 9th Judicial District Court earlier this week. She contends that both McGregor's pharmacy and a nearby CVS discriminated against her on the basis of her sex, and violated the Minnesota Human Rights Act.
Anderson says that, last January, she and her partner were having sex when they realized the condom broke. "The next morning, I got up and said, 'We can't roll the dice,'" she told a local ABC affiliate. Anderson's gynecologist gave her a prescription for ella, a form of emergency contraception. When she went to fill it at her town's only pharmacy — Thrifty White — one George Badeaux allegedly refused to fill it. "He said, 'I don't feel comfortable, that goes against what I believe,'" Anderson recalled to WCCO, a CBS affiliate. "And all a sudden it clicked, and I said, 'What?'"
Nonetheless, Anderson says, "the clock was ticking," because ella must be taken within five days of unprotected sex. So she tried the CVS in Aitkin, roughly 20 miles from McGregor. There, according to Anderson, the pharmacist also said they couldn't fill the prescription, but contacted a Walgreens in Brainerd, about an hour's drive away, to see if they could.
When the pharmacist reported back that, unfortunately, Walgreens couldn't help either, Anderson took the matter into her own hands. A call to Walgreens confirmed that they did indeed have the pill available, according to the lawsuit, and furthermore, that they'd told the CVS employee so. (In a statement, CVS reportedly said it "has policies to make sure customers get prompt service," and will investigate the incident.)
Frustrated but nonetheless determined, Anderson and her 2-and-a-half-year-old son made the trip to Brainerd the next day — with a "massive snowstorm" bearing down, per the lawsuit. The "whiteout" conditions turned what should've been a two-hour round-trip into an over three-hour journey, with snow "blowing and freezing on the roads" and temperatures well below zero.
Anderson ultimately filled her prescription, and did not get pregnant, but according to her legal team (and common sense), doing so should never have been a battle. According to court documents, the Minnesota Board of Pharmacy allows pharmacists to decline emergency contraception prescriptions, but requires them to "provide an alternative" for customers. Anderson also filed a complaint with the board.
"When pharmacists refuse to fill a prescription due to their personal beliefs, refuse to follow the rules of the Pharmacy Board and have a backup referral … they're violating those rights," Gender Justice Executive Director Megan Peterson told reporters on Tuesday, according to the Duluth News Tribune. Gender Justice is the legal nonprofit suing on Anderson's behalf. "They're putting their personal beliefs ahead of someone's health care."