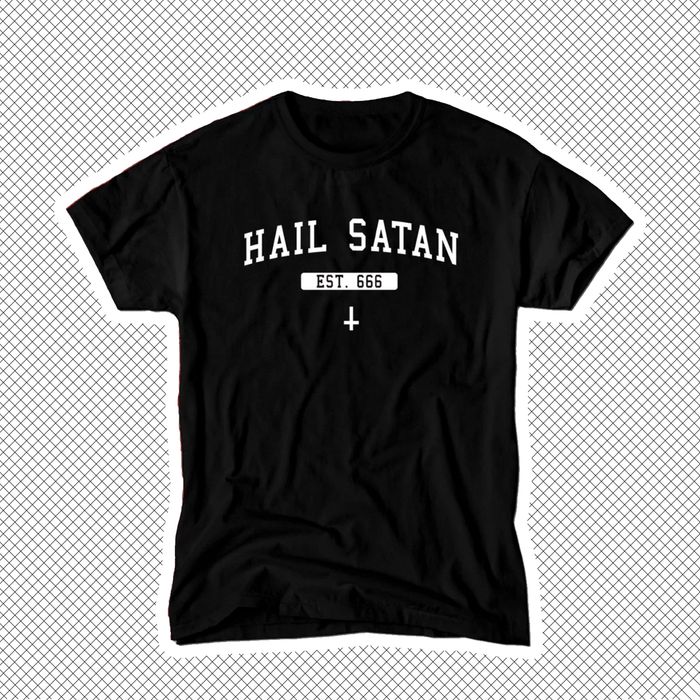 The "Hail Satan" shirt.
Photo: The Satanic Temple
When a 49-year-old woman recently boarded an American Airlines flight wearing a shirt that read "Hail Satan," she never imagined she would encounter any obstacles – she had worn the shirt on a plane many times before without incident. But on this particular flight in October, she was given a harsh ultimatum: Either change out of the shirt or get off the plane.
According to BuzzFeed News, Swati Runi Goyal was happily settled in her seat, waiting for her flight from Florida to Nevada to take off — while reading New York magazine — when an American Airlines employee approached her, and asked her to collect her items and come to the front of the plane. She was excited; she thought she and her husband were getting upgraded to first class. What came next shocked her: She says the employee told her the crew had found her shirt to be "offensive."
"We initially just thought it was a joke," Goyal told BuzzFeed News. "People usually laugh at it." Per the report, Goyal had bought the shirt to support the Satanic Temple, a non-theistic organization to which she belongs. Like other members of the Satanic Temple, she doesn't really worship the devil — the group shares a belief system based on the figure Satan as a literary metaphor, and is best known for pulling stunts to protest the Christian right's influence in American politics and public life.
Goyal says she defended the shirt, but that the crew member reiterated that it was "offensive." She says he then asked her if she understood what that word meant. In response, she told him, "I'm a foreign-born minority woman, I understand 'offensive,' and this shirt is not offensive.'"
Because Goyal and her husband didn't want to deboard, she ended up putting on one of her husband's extra layers over her shirt. But still, she says the crew avoided eye contact with her throughout the rest of the flight, and that they even skipped over her with the drinks cart. While other passengers were sympathetic toward her, Goyal says the whole incident left her feeling "humiliated."
When Goyal reached out to American Airlines after the flight, a customer representative told her that the company has "policies in place to ensure that no passengers are subjected to objectionable situations while on board." They did not, however, apologize. It was only after Goyal tweeted about the incident on Friday that she heard back from the airline, which responded to her on Twitter, "Discrimination has no place at American Airlines." (In a statement to BuzzFeed News, a representative said the company regrets how the situation was handled and is reaching out to Goyal.) But the Satanic Temple isn't satisfied with the response.
"It simply is not the place of an airline crew, or anybody operating any type of public accommodation, to pass judgment upon the beliefs of a passenger or customer, or to deny service based upon assumptions related to religious identity or opinion, in any circumstances," Satanic Temple founder Lucien Greaves said in a statement to the Cut. "American Airlines owes more than an apology, they owe the public an explanation."
Meanwhile, this past October, a man boarded a United Airlines plane wearing a shirt that explicitly advocated for lynching journalists, even after a passenger complained to a flight attendant. After the captain and a United Airlines supervisor were alerted and discussed the matter, the latter told the passenger that United "couldn't do anything just because it was offensive."