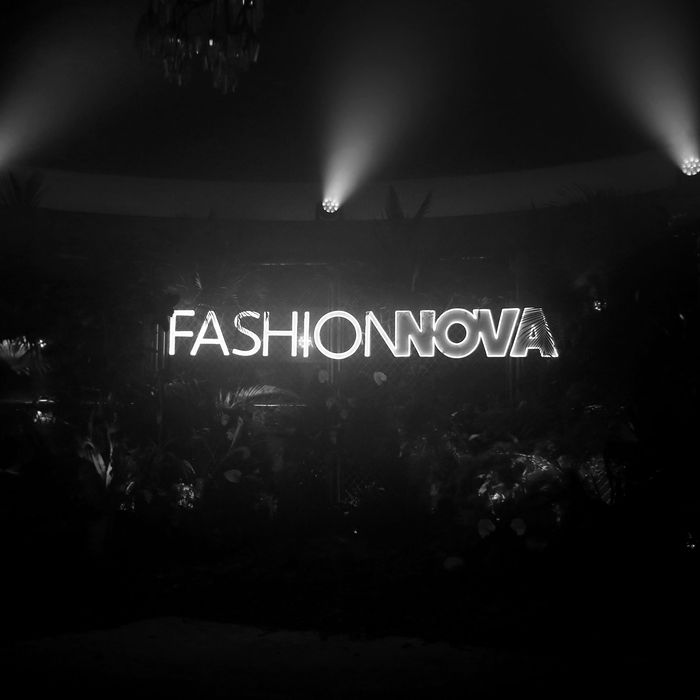 Photo: Tommaso Boddi/Getty Images for Fashion Nova
Over the past few years, online retailer Fashion Nova has been on a roll. The brand, which makes inexpensive, flimsy, tight clothing tailor-made for Instagram, has been championed by A-list celebrities and influencers alike. The brand offers attainable sex appeal, promising "real women" that they, too, can become immortal Instagram artworks without spending much money. But what about the real women and men who make the garments and mint the company's success? They are reportedly treated abysmally.
The New York Times reported on Monday that the Department of Labor launched an investigation into Fashion Nova in 2016 which found the brand works with contractors that pay its Los Angeles–based workforce a pittance — as little as $2.77 an hour, according to a person familiar with the investigation who spoke to the Times. Many of L.A.'s garment workers, whose bosses are competing with their counterparts overseas to drive wages ever lower, are paid off the books and as little as possible. Some are undocumented, making it incredibly difficult to advocate for themselves. If this weren't bad enough, the brand's contractors owe millions in backpay.
The investigation, which was conducted throughout this year, found that L.A. factories manufacturing Fashion Nova clothing owed $3.8 million in backpay to hundreds of workers. Mercedes Cortes told the Times that the factory where she worked, sewing Fashion Nova clothing for several months, was in poor condition. "There were cockroaches," she said. "There were rats." Cortes says she was paid about $270 for 60-hour weeks. Another sewer, Teresa Garcia, who has an active suit against the factory that employed her, recalled receiving bulk orders from Fashion Nova for 5,000 articles of clothing at once and was paid as little as $3.46 an hour for her work.
Erica Meierhans, the company's general counsel, told the Times in a statement, "We have already had a highly productive and positive meeting with the Department of Labor in which we discussed our ongoing commitment to ensuring that all workers involved with the Fashion Nova brand are appropriately compensated for the work they do. Any suggestion that Fashion Nova is responsible for underpaying anyone working on our brand is categorically false."
Through an aggressive strategy of partnering with Instagram influencers to sell cheap, form-fitting clothing, Fashion Nova's sales grew by around 600 percent in 2017. Currently the brand has 17 million followers on Instagram. According to Google's search data, more people looked up Fashion Nova last year than Versace or Gucci.
The brand has cultivated its own community of brand ambassadors called "Nova Babes," Instagram influencers who typically aren't paid outside of free clothing, discount codes, and social media followers. Loads of celebrities rep the brand, too, including Kylie Jenner, Nicki Minaj, Iggy Azalea, and Amber Rose; according to the Cut's own report, any given endorsement of the brand by Jenner can generate $50,000 in sales. In November, Cardi B announced a collaboration with the brand, telling her Instagram followers, "I wanted to do something that is like, 'Wow, what is that? Is that Chanel? Is that YSL? Is that Gucci?' No, it's Fashion Nova."
What's next for the online fashion powerhouse? According to the Times, Fashion Nova has over the past year reportedly shifted much of its supply chain overseas. In 2018 the brand claimed about 80 percent of its supply was manufactured in the United States. This year the company said it made less than half of its clothing in L.A.
This post has been updated.