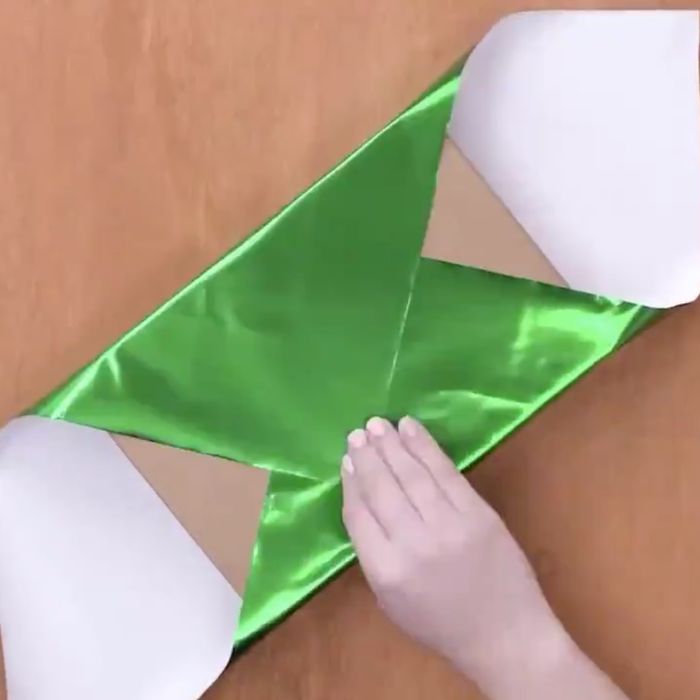 Photo: @Waterstones/Twitter
Nearly everyone who has wrapped a present has experienced it: You've carefully cut a piece of wrapping paper that you think is large enough to envelop your gift, only to discover that it is slightly too small, leading you to angrily crumple up the paper and begrudgingly cut a new, larger piece. It is frustrating. It is wasteful. But it is also, apparently, avoidable?
On early Monday morning, British book retailer Waterstones tweeted a life-hack video showing how to easily handle this nightmare scenario. It clearly resonated with people — nearly 21,000 Twitter users have retweeted it, and almost 90,000 have liked it. In total, it has been viewed 13 million (million!) times, leading us to one conclusion: Apparently none of us have known how to wrap presents.
The hack — which is designed for rectangular-shaped presents, like books or apparel boxes — is embarrassingly simple. After you've tried rotating your present 90 degrees, and have concluded that the gift does not fit, you don't give up (yet). Instead, try positioning the gift diagonally (in the middle of the paper), and folding in the corners accordingly.
The trick has shocked the masses. "I was a bookseller for 3 years, wrapped about a million books, and I did not know this," one person tweeted. "I feel embarrassed and ashamed." Another wrote, "As a 'gift-wrapping enthusiast' this is blowing my mind right now."
If you want to get really fancy, the extended version of the life-hack video, which was posted over the weekend by @BlossomHacks and viewed more than 4.5 million times, has a slew of more advanced tricks. (There is one in which you can build an easy-open tap into the paper, like a Fruit Roll-Up?) But I'm still trying to wrap my head around the turning-the-box-diagonal trick.