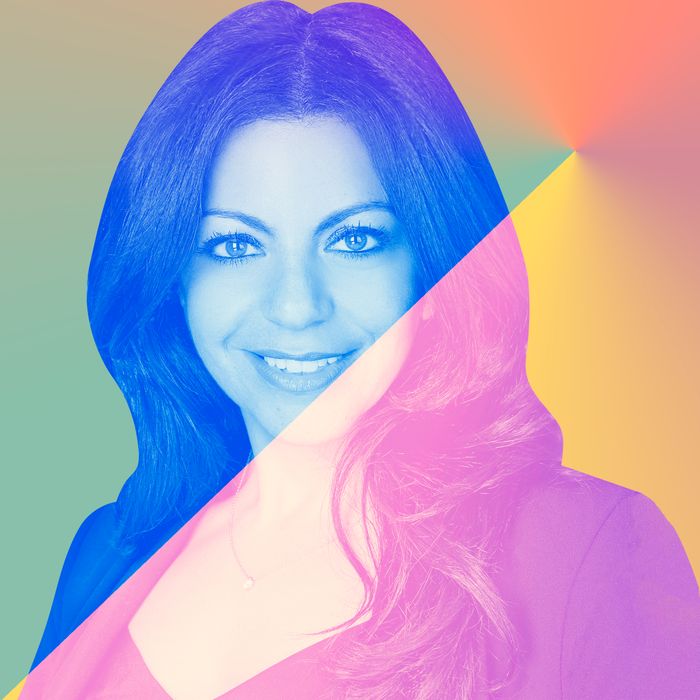 Photo: Courtesy of YSL Beaute
It is no exaggeration to call Doreen Arbel a force of nature. On a recent gray afternoon, she sweeps in wearing violet eyeshadow and a violet dress, a Saint Laurent leather jacket draped over her shoulders. She grabs a bottle of YSL's newest fragrance, Libre, and douses herself with it before sitting at her desk.
"It's this gorgeous orange blossom and lavender," she enthuses. "And just having the Cassandra logo on the bottle, it's so Instagrammable. I'm obsessed. Obsessed."
Arbel is the general manager at YSL Beaute. "I remember Frederic Roze" — L'Oréal's former president and CEO, and now executive vice-president, Americas — "telling me, 'If you want to be a GM, you have got to work on makeup,'" she says. "There's no other beauty category that's as complicated as makeup."
Arbel has worked across all beauty categories (except hair) at L'Oréal, where she started in the Paris mothership. The Canadian native had moved to Paris with her best friend on a dare of sorts. "We backpacked through Europe after graduation, and we were in Paris during the 1998 World Cup," she recalls. "We said to each other, 'We're going to live here someday.'" Two years into their first jobs, the besties moved from Toronto to Paris. Arbel worked at Leo Burnett's Paris branch for a couple of years before deciding that she could do a better job of marketing than her clients at Burnett did, so she knocked on L'Oréal's door.
Arbel's tenure at L'Oréal began working on Dop Douche (sold only in France), after which she moved to Garnier, where she was transferred to the States to launch its skin care. Next came Maybelline, then Armani Beauty, where she launched the Si fragrance. She moved over to Lancome, stayed for five years, then joined YSL in April. "This is the brand I related to the most in the L'Oréal luxe portfolio — the luxury, the edginess, the heritage," she says. "This was the brand I wanted."
Arbel spoke with the Cut about skipping serum, the workout that calms her and her complicated relationship with cleansing wipes.
What's your definition of beauty? Confident, happy, healthy.
What do you think when you hear the term "clean beauty"? No gunk.
Where, if anywhere, in your beauty (or life) routine are you not quite that "clean," "green," or "sustainable"? I cleanse my face with wipes.
Please fill in the blank as it pertains to something connected to your beauty or wellness routine, product or otherwise: I think about _______ a lot. The bags under my eyes.
What is the opposite of "beautiful"? Angry, grouchy, complaining.
What is your morning skin-care routine? After the shower, I use YSL Or Rouge Day Cream. No serum; I go straight to the Cream. YSL Touche Eclat under my eyes, over my naso-labial folds and forehead — the areas where I get red. Lancome Prime It Boost It on my eyelids, then YSL All Hours Foundation with my Beauty Blender, which I soak with a lot of water so my skin looks really dewy.
What's the last beauty product you use every night? YSL Night ReBoot Pure Shots. It's out in January.
What, if anything, is usually on your lips? Rouge Volupte de Shine by YSL. I have so many, but right now it's #83. Also, YSL Slim # 9. It's a nice red with a hint of rust, which works well for my skin tone.
What shade, if any, is usually on your toes and/or hands? Most of the year, it's Essie Carry-On, but during the holidays, it's Essie A-List, or in Summer, Essie Rosebowl.
What makeup item would you never skip? Mascara.
Bath or shower: Shower, with Kiehl's Shower Gel, any scent. I like Grapefruit, Lavender, Cucumber. Also, my Clarisonic, which I use every morning.
Most relied on hair product or tool? Weekly blowouts at Drybar.
What discontinued product do you mourn? I've found that makeup has become so innovative that you get over discontinued products!
What beauty product still needs to be invented? Super, dummy-proof false lashes. I am the biggest beauty junkie, but I can't put false lashes on myself. Even those magnetic ones are not easy.
What was your first beauty product obsession? L'Oréal Voluminous Mascara in Extra Black that my mom bought for me when I was around 13 or 14. It's still in my arsenal of mascaras.
Daily purse of choice: YSL Sac du Jour, medium.
How do you like your bed? Totally made, every morning, with white and gray linens I found at a little boutique I found in Provence.
How do you like your living room? I like it neat, can't be messy. It's white and gray with a pop of yellow.
What do you splurge on? Vacations, interior decorating, shoes and purses.
What is your classic uniform? Usually a dress with my YSL biker jacket. I tend to be multi-brand when it comes to my dresses. I love consignment and one of a kind pieces, too.
What shoe are you usually wearing? YSL Tributes.
If you were a makeup shade, what shade would that be? Fuchsia with sparkles.
Any hidden or secret talent or skill you possess? I put on a fierce dinner party with people who don't know each other.
When you check into a hotel room, what's the first thing you do? Turn off the AC. I'm always cold.
What is your personal definition of misery? People who complain and don't grab the bull by the horns.
What was the most recent interesting conversation you had? Talking with my two young daughters, explaining to them what transgender is.
Favorite smell? Right now, it's a fresh Christmas tree.
Least favorite smell? Chainsmokers.
What do you think Pantone's color of 2020 should have been? Yellow, because it's the color of hope. And in this uncertain political climate we're in, we need to remain hopeful about the future.
What must you adjust or fix when you see it done incorrectly? Power Point slides.
What calms you down? Soul Cycle.
Comfort food: Grilled cheese with fries.
Most impressive dish you make: Cheese souffle.
What do you foresee as the top beauty trends for 2020? Hybrid and multi-use products are going to continue. Everyone's moving at such a fast pace, and more and more people are looking for shortcuts. I think that's going to continue.
What product in your brand's product domain is misunderstood and should be a bestseller? Touche Éclat. It's lost its rank, I think because people think it's just a concealer. It's such an amazing all-in-one product that really does everything. After all those super high-coverage concealers that give that Instagram look, the pendulum is now swinging back to a more natural, glowy look, and Touche Éclat needs to be rediscovered.
What product in your brand's product domain is currently your favorite (understanding that this could change all the time). YSL Libre fragrance. I get intercepted by people all the time asking "What are you wearing?" That's when you know, Ooh, it's a winner.
If you won the Power Ball tomorrow, what are the first five things you would do (after, of course, donating the majority of it to your top charities …)? I'd take a year's sabbatical with my husband and daughters. Three months in Asia, three in India and three in South America, and in each of those three months, our girls would go to a school and my husband and I would work for a nonprofit charity and just live this life adventure.