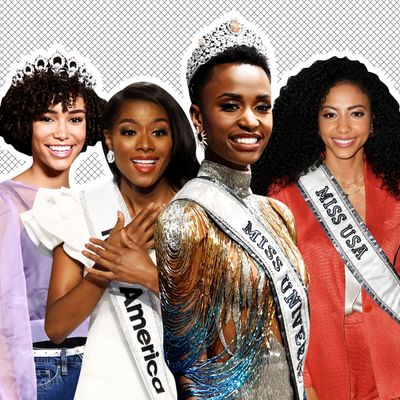 Last night, Zozibini Tunzi was crowned Miss Universe. The South African contestant beat out 90 other women in the U.S.-based global pageant, making her the first black woman to win since Leila Lopes in 2011, and one of six black Miss Universe winners since the competition started in 1952.
Tunzi's crowning is notable in and of itself, but it also marked a historic year for black women on the U.S. pageant circuit at large. This year — for the first time in history — Miss Universe, Miss America (Nia Franklin), Miss USA (Cheslie Kryst), and Miss Teen USA (Kaliegh Garris) are all black women. It's an impressive group of women: Tunzi is a PR specialist who has long campaigned against gender inequality and gender-based violence. Franklin is a composer and opera singer. Kryst is a lawyer and fashion blogger. And Garris hopes to go into nursing after college.
These historic wins come at a time in which the industry is struggling to modernize amid declining viewership: Miss America scrapped its swimsuit competition in the wake of Me Too, and Miss Universe introduced an all-female judges' panel in 2018. Still, critics remain skeptical that pageants can ever become truly modern. "What is Miss World's place now, in the era of body positivism and fourth-wave feminism? What contortions has she made in her 68th year? Why is she still here, when food rationing has gone?" The Guardian's Tanya Gold recently asked of Miss World.
But the fact that all titles for U.S.-based competitions went to black women — two dark-skinned, three who competed with their natural hair — is a significant shift, and onlookers are hailing it as such, especially given the extended history of pageants (particularly the U.S.-based ones) routinely excluding black women.
Tunzi echoed these sentiments in her closing statement. "I grew up in a world where a woman who looks like me — with my kind of skin and my kind of hair — was never considered to be beautiful. I think it is time that that stops today. I want children to look at me and see my face and I want them to see their faces reflected in mine."