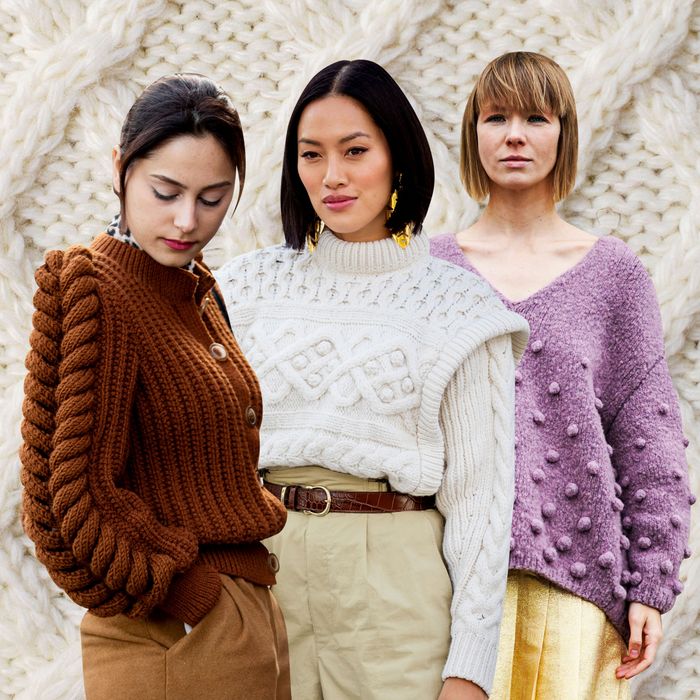 Look at these glorious sweaters!
Photo: Getty Images
There was a point a few years ago when I swore I would never buy another sweater. They pilled, they took up space, they were a pain in the ass to wash. They made me feel overly hot, but they didn't make me look overly hot. And yet I come to you today as a woman whose shopping wish list comprises thick, luxurious knits, and who can now spot a Demy Lee chevron pattern or a ropy Dôen cable knit at fifty paces.
What changed? I got older, and I got tired of being cold. I also invested in a couple of nice sweaters and had an epiphany: the good ones truly do make your life warmer and better. And at the same time — and, let's be honest, maybe more importantly — expensive, chunky sweaters suddenly became a marker of chic.
There's a growing community of sweater obsessives out there. Just ask everyone who freaked out about Chris Evans's fisherman number in Knives Out, or the commenters on this image of influencer and noted big-sweater enthusiast Estée Lalonde, most of whom are there to talk about the Totȇme sweater she wears ("cozy gang!"). Or the 106,000 followers of Spanish brand Babaà, which has been making frequent appearances on the perennially popular lifestyle blog A Cup of Jo. Or whoever decided that Zoë Kravitz (famously the daughter of a knitwear enthusiast) should spend season two of Big Little Lies wearing the softest-looking sweaters I've ever seen.
Rudy Jude designer Julie O'Rourke, who lives in Maine and frequently shares images of herself and her family in aspirationally practical woolens, thinks the appeal of the humble sweater is, in fact, its humility. "You can wear a sweater every day and no one will think that's weird, plus they look good on everyone," says O'Rourke, who tells me she has sweaters for every season. (She likes Misha and Puff, Micaela Greg, and yes, Babaà.)
Status knits, by definition, aren't cheap — a popcorn knit sweater from Micaela Greg will set you back in the neighborhood of $350 — but you can tell yourself you're being practical. After all, isn't a sweater a future heirloom? I know I'm being asked to spend as much as I would on a pair of shoes, but it's easy to pretend this is somehow more sensible.
Sweaters have the added bonus of being versatile, says Conley Averett, a knitwear expert who worked on production for lines like Proenza Schouler before launching his own line, Judy Turner, last year. "Knits are gender neutral and can flex to fit different kinds of bodies, so they make sense from a business perspective." That said, size inclusivity is an issue — Babaà pieces, for example, come in one size only.
There's another common denominator that seems to be at least partly driving this trend — stylish moms. Utah-based Jessica Reese just released her first full collection for James Street, built around mix-and-match sets that include a high-waisted trouser. "I can't take credit for planning it this way, but the pieces are also very breastfeeding-friendly," she says. Notably, a number of these lines (Dôen, James Street, Misha and Puff, and Babaà) also make items for kids as well.
Something about the current niche knitwear craze is different from the capital-F Fancy sweaters of yore (like, say, a Loro Piana turtleneck). The classic luxury sweater is something a Nancy Meyers movie heroine would wear; these are more likely to be spotted at the Echo Park Craft Fair. While the cuts vary, there are some common themes: a chunky, discernible knit made from humanely produced fibers, a boxy shape, and a dropped sleeve. Because they're labor-intensive to make and produced on a smaller scale, the sweaters tend to sell out, adding to their allure.
If you, like me, can't stop thinking about being swaddled in wool, read on for 11 status sweaters to buy right now.
Shop The Story
If you buy something through our links, New York may earn an affiliate commission.