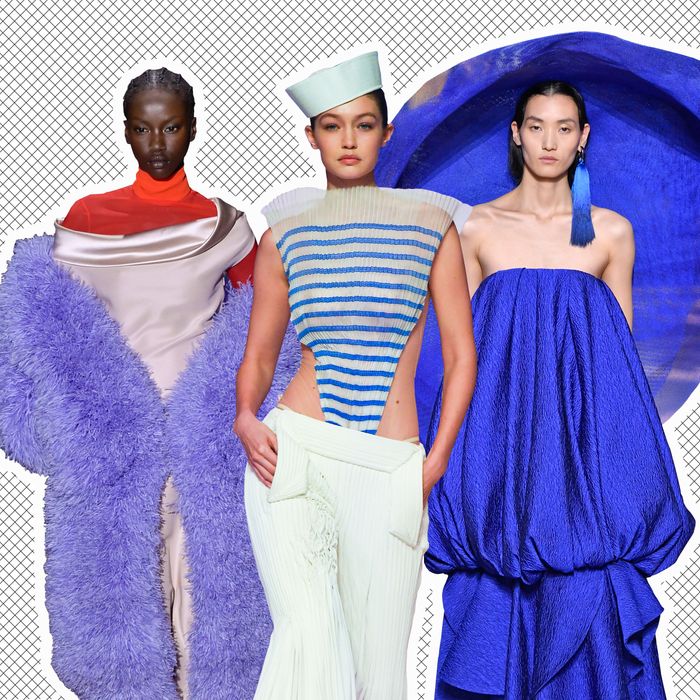 Couture looks from Valentino, Jean Paul Gaultier, and Givenchy.
Photo: Getty Images
There's something delightfully anachronistic about haute couture fashion shows. Everything about it is painfully rarefied. The governing body of couture, the Fédération Française de la Couture, only allows 16 official couture designers. More designers show, but they're just "guests" of the Fédération. By definition, couture is custom-made, often handmade, and ludicrously expensive. So it's not really about trends or what people will wear — it's just a showcase of the very best tailoring and artistry. Which means it's over-the-top and very fun to look at.
The Spring/Summer 2020 couture shows just wrapped up in Paris. Jean Paul Gaultier took his final bow after 50 years in the fashion industry, and his show had a whopping 174 looks. Gigi Hadid, Dita von Teese, and Coco Rocha walked (or in Rocha's case, Irish jigged) down the runway. At Valentino, Pierpaolo Piccioli made liberal use of feathers, headpieces, and trains. The models had heavily hair-sprayed bouffants, like ladies who lunch taken to the nth degree.
If big billowing gowns aren't your thing, maybe Chanel's prim schoolgirl dresses (featuring socks over tights with loafers) or Ronald van der Kemp's swaggering '80s clubwear are more your speed. In any case, below are 16 lush, extravagant couture outfits to fuel your sartorial fantasies.
Jean Paul Gaultier
Imagine putting your lower half in a mesh birdcage, just for fun!
Tom of Finland, meet low-rise pants. Pants, meet Tom. We foresee the beginning of a beautiful friendship.
Ronald van der Kemp
The emcee in Cabaret could never.
Do you feel the Bianca Jagger vibes? I feel the Bianca Jagger vibes.
Chanel
Socks over tights: a trick you can try at home.
Ralph & Russo
Someone wear this for awards season. Chartreuse silk is only improved by chartreuse feathers.
Christian Dior
The theme of the show was "What if women ruled the world?" A lot of the dresses were Greek goddess–inspired, but we like this blood-red interpretation.
Schiaparelli
The show was a testament to jewelry. If decorating your dress with gold and crystals is not enough, try adding some to your face.
Probably heavy, but definitely worth the extra weight. Look at those nipple tassles!
Givenchy
Designer Clare Waight Keller showed several of these giant hats — for when you want to make a statement but don't want anyone standing near you.
Valentino
Don't ask where one would wear a dress with face-obscuring feathers. It's about the fantasy that someone could.
Love the turtleneck under the evening gown.
Iris van Herpen
This is an absolutely perfect maternity dress for Grimes.
Maison Margiela
This almost-destroyed society lady getup is a little Grey Gardens, no?
Which is the star: the fur bucket hat, the purple mesh veil, the cape, or the Tabi shoes?
Guo Pei
Elsa from Frozen, but make it fashion.