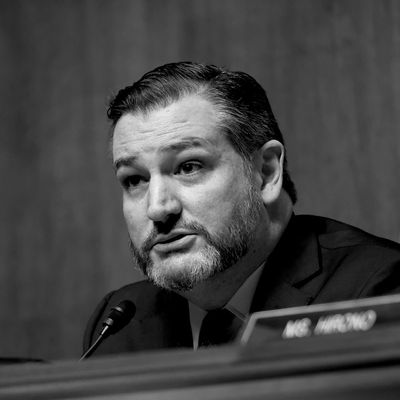 Ted Cruz, one of the 207 lawmakers to sign an amicus brief arguing against
Roe
v.
Wade
.
Photo: Alex Wroblewski/Getty Images
A large, mostly male group of members of Congress reminded the U.S. Supreme Court just how much they loathe abortion on Thursday, filing an amicus brief asking the nation's highest bench to please consider overturning Roe v. Wade. In the brief, 39 senators and 168 representatives — 207 lawmakers, all told: 205 Republicans and two Democrats — outlined their support for an aggressively restrictive Louisiana law, which will come before the Court in March.
The case in question is 2014's June Medical Services LLC v. Gee, which challenges Louisiana's "Unsafe Abortion Protection Act." The law, which is not in effect, obligated doctors who perform abortions to secure admitting privileges at a hospital 30 miles away or fewer. Pointing to the Supreme Court's 2016 Whole Woman's Health v. Hellerstedt decision as precedent — which dealt with a very similar Texas law — a Shreveport abortion provider argued that the measure constituted an "undue burden" on access: The vast majority of legal abortion procedures are extremely safe, and in Whole Woman's Health, Texas lawyers couldn't offer a single example of these types of restrictions improving the level of care. In 2017, a federal court placed a preliminary injunction on Louisiana's law, but in 2018, the U.S. Court of Appeals for the Fifth Circuit reversed that ruling, and so the matter landed before the Supreme Court. If allowed to stand, the legislation would close almost every abortion clinic in the state.
The brief takes aim at both Roe, the landmark 1973 ruling that classified the criminalization of abortion as a violation of the constitutional right to privacy, and 1992's Planned Parenthood of Southeastern Pennsylvania v. Casey, which established the concept of undue burdens on abortion access. In its filing, the cohort of lawmakers describe Roe as "radically unsettled precedent," arguing that its "jurisprudence has been haphazard from the beginning," because "Roe did not actually hold that abortion was a 'fundamental' constitutional right, but only implied it."
Further, the lawmakers contend, "[t]he Fifth Circuit's struggle to define the appropriate 'large fraction' or determine what 'burden' on abortion access is 'undue' illustrates the unworkability of the 'right to abortion' found in Roe v. Wade … and the need for the Court to again take up the issue of whether Roe and Casey should be reconsidered and, if appropriate, overruled."
An amicus brief — full name, Amicus curiae brief, meaning "friend of the court" in Latin — represents an attempt by an uninvolved-but-interested party to influence a decision, and according to the Cornell Law School, they're often referenced in Court opinions. Considering the Court's conservative-leaning bench, that's far from an inspiring thought.