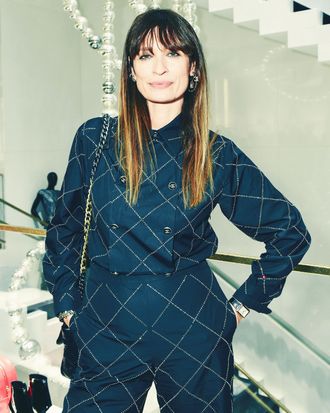 Caroline de Maigret.
Photo: Joe Schildhorn /BFA.com
Forty-four-year-old model and Chanel ambassador Caroline de Maigret decided to write a book about aging after someone who was 30 told her that she wanted to be like de Maigret "when she was old." The resulting book, Older, But Better, But Older, just came out a few days ago, along with a Chanel collection inspired by de Maigret. She celebrated both with a low-key cocktail celebration at Chanel's midtown store last night.
"I basically had a midlife crisis while I was writing the book," she told the Cut. "I was asking myself questions and suddenly I had this feeling of, This is the last time I'm going to be able to change things in my life. It's not true, but that's what your brain tells you. It drove me crazy. But there is a serenity that comes with age, with knowledge."
De Maigret's first book — she co-wrote both with Sophie Mas — was called How to Be Parisian. Wherever You Are. Basically, she's the effortless French girl stereotype in model form. But the French girl is — by definition — a girl, not a woman. Does she feel equally Parisian these days?
"I do feel Parisian, if we're talking about clichés, in the way I feel very free," she said. "I don't have the pressure to be perfect. It's really something I don't own. I don't have pressure of failure. I really don't care to fail. I also look at icons like Catherine Deneuve and Simone de Beauvoir. You understand there's something other than youth that makes them shine."
To celebrate the book with editors and friends at the Chanel boutique, de Maigret wore a quilted jumpsuit with gold shoes. Although she's the muse for the latest collection from Chanel, designer Virginie Viard decided not to tailor the pieces to fit her taller frame. Instead, everything fits her slightly short, showing off a bit of ankle or wrist. De Maigret doesn't mind — she says it looks sexy, a little bit of wrist.