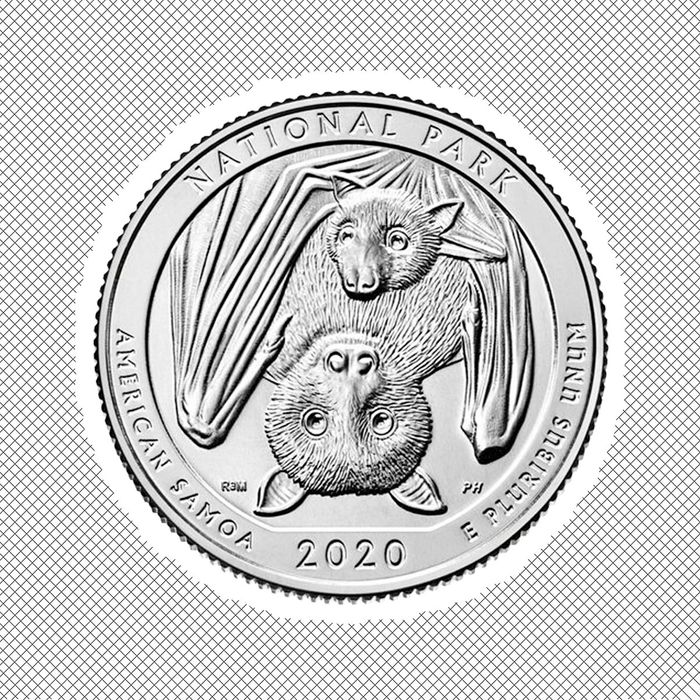 Quarters! Great for the laundromat, fun to polish, 25 pennies, gotta love quarters.
Now there's something else to love about them: bats. Come February 3, a mama Samoan fruit bat and her baby will grace some special-edition U.S. quarters as part of the Federal Reserve's "America the Beautiful Quarters Program." The baby — or "pup" — will be hanging upside down from in its mother's pouch — or right side up, depending on how you look at it.
According to the New York Daily News, the words "NATIONAL PARK" and "AMERICAN SAMOA" are emblazoned on the outer edge of the coin's non-bat side, accompanied by an inscription that reads "2020." But don't worry, the coin will have "E PLURIBUS UNUM" on it, too, for all the die-hard fans of the classic U.S. quarter out there.
U.S. Mint wrote in a statement that the coin is meant to bring awareness to the fruit bat, specifically "the species' threatened status due to habitat loss and commercial hunting." It also notes, "The National Park of the American Samoa is the only park in the United States that is home to the Samoan fruit bat."
Of course, bat coins function in circulation just like any other coins. But as a matter of principle, the proper use of the bat coin is purchasing an item exclusively in bat coins. Don't let the numismatists fool you into thinking this is some precious, individual collectible. The demonstrative power of the bat coin is only truly unlocked when you pour a small sack of them onto the counter of a Williamsburg coffee shop to pay for your $8 coffee.