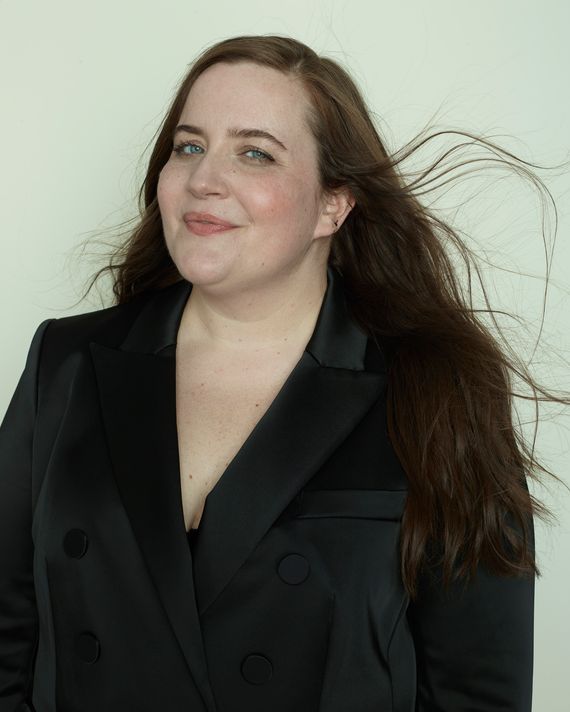 Fridays at Saturday Night Live are in some ways harder than Saturdays at Saturday Night Live. Mondays are nerve-racking, sure, with writers sitting on the floor of Lorne Michaels's office, lobbing ideas at him and the celebrity host of the week during a Socratic pressure cooker of a pitch session. Tuesdays and Wednesdays are the most fun (near-delirious writing days fueled by snacks and seltzer). But Fridays are when the show has to come together. Writers, cast members, and the production team block out sketches, build sets, choose costumes, rehearse, rewrite, reblock, rechoose costumes, consider camera angles and props, and film pretaped segments, often in a 24-hour workday that involves sleeping in the office, if there's any sleep at all.
On one of those recent Fridays, when the stage of Studio 8H erupts in manicured chaos — crew members turn piles of wood into elaborate sets and camera operators zoom around on cranes, narrowly missing the heads of performers — Aidy Bryant, a cast member of eight years, is running through jokes for a sketch she co-wrote. "The Corporal" stars her and her sometime writing partner, always office wife, Kate McKinnon, as sisters willing to murder each other and their unwittingly hot third sister (that week's host, Jennifer Lopez) to win the hand of a visiting suitor. It requires a gilded birdcage big enough to fit a human, two vanities, a rifle, a noose, a martini glass full of pills, a rubber lobster, and a corset that has to fly off J.Lo's boobs at the exact right beat.
The sketch includes many of Bryant's signatures: characters inspired by golden-age Hollywood, jokes drenched in murder-y darkness, and a plot that twists the knife into "women's topics," in this case playing into anti-feminist tropes with such absurd dedication they come back round to feminist. And she gets to do it all in a funny voice (she loves a funny voice) as one of her favorite types of characters — what she and her co-writer Sudi Green call "baggooo ladies" (said with a warbling, rich-lady modulation) — a fancy woman who enters a room purse first.
McKinnon and Bryant — who wears a striped T-shirt and black denim mini-flares, her long straight hair side-parted like Jan Brady's — start the scene in wheelchairs and, while trying to angle them, end up in a legfight. On the third run, they're beginning to find their characters and rely less on cue cards. "AHHHHH, siiiiIIiister," Bryant says. McKinnon counters with a more dramatic "AHHHHHHH, sister," in an old-timey voice-off. Bryant grabs McKinnon and pulls her to her bosom, breaking the scene to ask the cameraman, "Does this read as a murdering move to you?" McKinnon shakes with laughter.
Bryant, who is 32, started the same year as McKinnon and Cecily Strong. But whereas Strong excels at the sexy, bitchy villain, and McKinnon veers toward the scene-stealing oddball, Bryant tends to get cast in roles with an insecure middle-school-student energy. Her characters seem innocuously dippy or so innocent that butter wouldn't melt in their mouths, and it takes a minute to realize she has infused them with a vile twist or a chaotic sexual streak that lurks just under the surface. She often delivers the dirtiest lines in a folksy way that makes streams of profanity or riffs on dildos seem like a church-camp sing-along. "There's a juxtaposition with my sweet face," Bryant says of her characters, citing "Girlfriends Talk Show," a recurring sketch with Strong where Bryant plays Morgan, a teen girl supposedly having the time of her life co-hosting a talk show with her best friend but who is actually "just in hell all the time."
Bryant landed "Girlfriends Talk Show" in her first season, and while it was a breakout moment, early reviews had dubbed Strong the star of the new class. It took several more seasons for Bryant to find her beat and her fan base. In 2018, Bryant earned an Emmy nomination for her work on SNL. The following spring, she starred in Shrill, a Hulu series about a discontented 20-something journalist, Annie, who is hell-bent on improving her life.
The show's poster featured Bryant in a purple bathing suit, a Portland, Oregon–hipster Venus on the half-shell, broadcasting her intention to not go dark, exactly, but at least shake off some of the bubbly. Annie has an abortion onscreen and throws a flowerpot through a car window, both in the name of non-bullshit, tampon-commercial self-acceptance and empowerment. Shrill also gave Bryant a chance to assert herself as a writer and an executive producer. When the series returns in January, Bryant's character will still be battling to find her self-confidence and see herself clearly, but off-camera, Bryant is already there.
"Q-TIP, Q-TEEP, Q-TIP." Back on set, Bryant is trying to figure out which pronunciation is absurd but not too absurd. The process is technical, slow, and precise. Bryant is both relaxed and focused, joking with the crew but also advising a set designer on the placement of mirrors, reminding McKinnon where the wheelchair mark is, and showing the props master the best way to hand her a gun so she can have her finger on the trigger when she puts it in McKinnon's face. She stops to consider the plastic lobster: How will it read when Lopez has to make out with it? Lopez wanders over for clarification on how the dresser will rip off her bodice. ("Are you so bored?," Bryant texts me during a break, adding purple and pink heart emoji.) They run through the sketch a few more times, until they better remember their lines, the right lobster is chosen, they decide to lose the wheelchairs, and Q-TEEP becomes the accepted pronunciation.
When I ask Bryant later how SNL helped prepare her for running her own show, she explains that taking a sketch from pitch meeting to live taping in a week is like a TV-making boot camp. By the time she arrived on the set of Shrill, any worry about not knowing what she was doing was quickly replaced by "Yes, I fucking do."
In September 2012, when news that Bryant had made it as a cast member on SNL's 38th season broke, a student reporter at the Columbia Chronicle, the newspaper of her alma mater, Columbia College in Chicago, asked her old professors about the comedy star they saw budding within her. The resulting collection of quotes isn't insulting, but it's not exactly glowing: "I remember her as being a pleasant young woman. I [couldn't say], in all honesty, that I thought she was going to be a comedy star," said one. Another chimed in with "I was sort of shocked. Not because she is not capable; I just didn't realize she was going for it like that. I had no idea she would so aggressively pursue this task." The reporter concluded, "Most Columbia professors agree that she was a smart and talented, but timid, young girl."
Bryant may have seemed timid to her professors, but she pursued comedy with the seriousness of a premed student. She graduated from her Phoenix high school in 2005 after four years of improv classes at a local theater; she chose Chicago for college because she wanted to be where people were good at it. By day, she attended theater classes. At night, she took improv classes. At 19, she started at the iO Theater, where she says the shows were bad but the alums were A-list (Tina Fey, Jordan Peele). She was soon asked to join an all-female team made up of comedians ten-to-15 years older than she. Her work there earned her entry into a group at the Annoyance Theatre, an "artsy and nasty" company that focused on turning improv into writing.
By the time she graduated from college in 2009, Second City had asked her to join its summer cruise-ship cast, promoting Bryant from shows that she says made her feel like she was "punishing the audience" (aptly summing up 95 percent of all improv) to performing for actual money. That meant four months of jokes that were the comedic equivalent of buffet grilled chicken (unseasoned, safe) and fighting norovirus by sanitizing her hands every time she entered a room. "Whenever you walked into a room, someone would sing a song to remind you to spray your hands: 'You can washy-washy / Washy-washy when you walk in a room / You do your washy-washy / We'll spray your hands / You can washy-washy.' " That job quickly taught her what kind of comedian she wasn't: one with norovirus, but also one who was family friendly enough to appeal to cruise-ship guests.
After the cruise-ship tour, she joined the Second City ensemble. In one breakthrough skit, she played a woman who catches a bird, makes it her boyfriend, and loves it to death (see a recent sketch with Harry Styles that follows a similar plot). During her second year, Bryant was performing when she got word that Lorne Michaels was in the audience scouting for new cast members. That night she knew she had some of her best work: "Dolly Mae Daniels and Her All-Ex-Husband Band," in which she sang little country ditties to her ex-husbands until she got to her most recent and then unleashed 15 fuck yous in a row, each one increasingly more deranged and physically strenuous. Afterward, Michaels came backstage in a suit and tie, tiptoeing his way through the 30-year-old piles of props in the dusty, cold, probably rat-infested space, to meet Bryant. "I was just feeling myself. I was like, I know these are fucking good." A few days later, she was offered an audition for SNL.
Tim Robinson, another Second City alum who started on SNL in the same season, recognized Bryant's sense of self even in their first days of improv together. "I feel like it takes people, including myself, a lot of time to distill exactly what you find funny and what you want to do," he explains. "She had it pretty early on. She knew her sensibility; she knew it was unique."
On her first SNL episode, Bryant had one scene. She walks up to a couple on a date and babbles with manic conviction about how much she likes the woman's dress: "I want to become you. Anyway, bye." Her most notable characters are often similarly young and huggable or are actual children, like travel expert Carrie Krum. There are lots of horny theater kids in her repertoire. A number of her roles are variations on ones she has complained that casting agents commonly offer her: "nice moms who shop at Walmart" or "nice friends who don't have boyfriends." Niceness is a descriptor that follows her in person, too. When I say to Bryant, "You're so nice!," she reflexively swats back with "I'm not nice!" Nice is often coded. To be nice is to be always pleasing or weak or dismissible. For women, it can be a limitation. Nice rarely allows for agency or assertiveness. It means you have a tendency to be underestimated. "It sucks," she says of the prison of her own charms. "I'm nice," she clarifies, "but I'm firm."
The following week, I meet Bryant at a recording studio in the Flatiron District with an on-set caterer and big leather couches. She's already there in the booth, the sleeves of her neon-green Off-White sweatshirt pulled down over her hands, dubbing lines for Shrill — a task that requires her to rewatch scenes of herself until she can pinpoint the moment she said a line weirdly. "I'm a journalist!," she repeats, until she finds the right cadence. Next is a scene with a marble dildo (no spoilers here), and she has to sigh over and over until the uhs and ahs land in the right spot. After the fourth take, she asks for playback and is sure she needs to do it again.
Shrill, based on Lindy West's 2016 memoir, Shrill: Notes From a Loud Woman, really is Bryant's show. She agreed to star on the condition that she also write and produce. She co-wrote the pilot and, after Hulu ordered the series, spent her summer break from SNL in Portland shooting the first season. The show touches on many themes related to modern womanhood, but audiences responded most strongly to its respectful portrayal of a fat woman living without diets or body shame. Capturing that required Bryant to fight for her vision. For example, producers wanted Annie to start the season wearing dumpy clothes and then go through the classic transformational makeover scene to signal a woman finally gaining self-confidence. Bryant vetoed that. "It was a lot of conference calls with me saying, 'I think this is condescending, and I'm telling you this is how it has to be. I've never been that person, so we don't want to put that onscreen,' " she explains, as we walk to lunch after the recording session.
She brings me to one of her favorite spots, the restaurant in the back of ABC Carpet & Home, during ladies-who-lunch hours. As we wander past $800 doormats and $1,200 crystals, she does a generous but broad impression of the sort of woman found shopping at ABC at 1 p.m. on a Tuesday, the kind of woman who desperately needs overpriced healing-crystal tree ornaments.
As she gracefully slides into a seat at the bar, she tells me about adjusting to the new visibility the role of Annie has given her. "People feel much more emotionally connected and invested in the character but also in me as a person." In interviews, she's now asked about her dieting, how she hated herself, how she overcame hating herself, does she still hate herself, and how it is possible for her not to hate herself. She insists she does not, nor has she ever.
"I feel like part of doing this show was to be like, 'Let me get this out of the way for you. Let's confront this head-on, and at some point we'll move on,' " she explains. Bryant is comfortable with the word fat — so comfortable, in fact, that she's bored of it. And so bored of it, specifically of the questions she is asked about how it makes her feel about herself, that she has become exasperated by it. "I feel like it's not the only thing I am," she says. "I feel like I'm a lot more things before that, like friend, wife, daughter, whatever. And I'm fat. I'm also a star! A certified star," she says, slipping into a 1940s diva voice. "I'm also rich now, so eat shit."
Sure, she struggled with garden-variety teen self-doubt growing up in the hyperblond, preppy Republican deserts of Arizona. But it wasn't foundational, she says, more just a sense of it not being her scene. She went to Xavier College Prep, a fancy all-girls high school in the suburbs that was academically rigorous but so conservative that the Right to Life club got a half-day every Friday to protest in front of a local Planned Parenthood. Meghan McCain, whom she has spoofed on SNL, was a few years ahead of her. Bryant describes her late-high-school self as "art-school kid in bad thrift-store clothes at the Rilo Kiley concert in the back of the art gallery," the kind of teenager who reminded the robots in her class that she was an individual by wearing huge hair clips she made herself by gluing a toy boat to a barrette. "Hoo, baby. That was taking swings," she says.
Her parents encouraged her creativity. "My house was filled with stuff to make you think and feel magic," Bryant says. Her parents' marriage set the model for how she expected the world to treat her. "Even when I had boyfriends or whatever, it was like, 'Oh, you're actually not going to talk to me that way,' " she says.
That's another thing she had to fight for on Shrill — a boyfriend she had sex with. "How can you have a story about a person's body and about their relationship to their selves and not involve sex?," she says. "I just always felt like so many fat characters were so sexless, or the sex was hypercartoony, where it was like she jumps on a man and she's going to break his dick off and suck him until he's dead or whatever. But I always was having cool sex and had boyfriends," she says.
Last year, Bryant married comedian Conner O'Malley, whom she met at the bar of the Annoyance when he complimented her show and she lied about watching his. She knew she liked him when she lied again about wanting to go to a Batman movie, and she knew she loved him when she got food poisoning, threw up in the sink of a friend's house, and clogged it. "Conner, with his bare hands, pulled chunks of my barf out of the sink. And I was like, That's my fucking man. I love this man. I will marry this man."
Bryant wrote that moment into the new season of Shrill. The first season had stuck largely to West's memoir — her career as a writer at an alt-weekly, her relationships, the battles she had with skinny women who wanted her to diet, her mother's expectations. The second season, which Bryant describes as Annie's life with her newfound confidence, "post–body stuff," gave Bryant more freedom to add her own life to the story, moments when her body type is beside the point. "The show didn't make me think I can wear a fashion dress or whatever," she says. "It's made me, like, I've got to get things done."
Behind the scenes, Bryant has learned how better to be both nice and firm. When mistakes are made, she doesn't just say, " 'It's fine!,' like a 14-year-old girl," she explains. She addresses them. The fights for what goes in have been reduced — especially around sex scenes, which are numerous (and nasty) this season, Bryant says with a sigh. "I write these things, and then I have to film them. I forget it's going to be actually me and my pussy and my face."
*This article appears in the January 20, 2020, issue of New York Magazine. Subscribe Now!