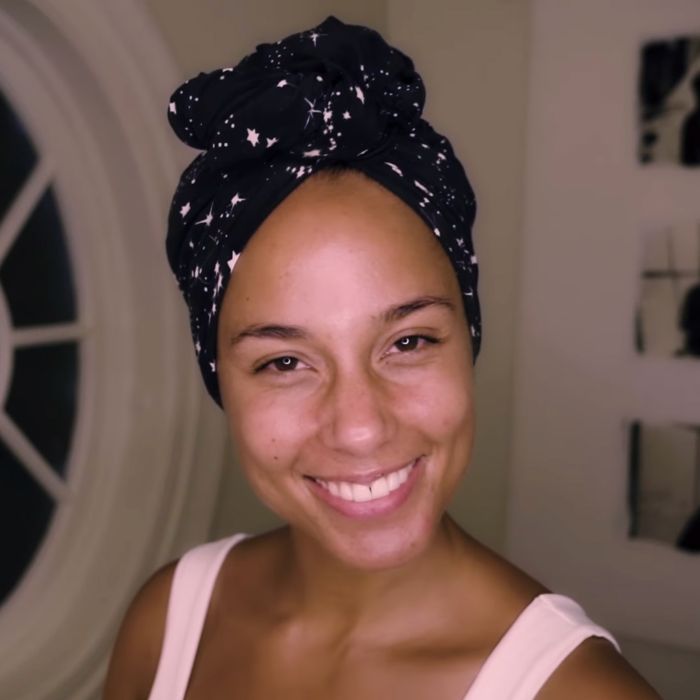 Photo: Alicia Keys/Youtube
Do you want your ears to experience the feeling of lighting a scented candle? Are you not sure what ASMR means? Then sit back, clean the earwax from your ears, turn up the volume on your Sonos, and cue up Alicia Keys's first skin-care YouTube video, called "Get Unready With Me." Beautiful human Keys, refreshingly makeup-free (not her first time) and imperfect (there is a tiny starter zit on her chin), details her unwinding routine after getting home from a long, hectic day.
Key's skin-care version of hygge preps her for "dreaming up some dreams with [her] third eye and [her] creams." It contains very few products, nothing harsh, and seems as nourishing and warm as Keys's teddy bear of a voice. Among her favorite things: comfy sweats, an artful hair wrap, a giant mason jar of water with a metal straw ("'cause I'm trying to save the planet out here and not trying to do plastic"), palo santo, lots of rosewater misting, and a sulfuric lotion to dry out blemishes. Most of the products used are not easily identifiable, but she does call out Epicuren's Brazilian Propolis Lotion, Osmosis Deep Clean Detox Cleanser, and Advanced Skin Care's Advanced Anti-Blemish Lotion with Sulfur (currently unavailable on Amazon unfortunately).
The Grammys are some time away and YouTube videos generally aren't in contention, but this changes things (and is a good reminder for John Mayer to up his beauty vlogging game). Is any song better than the ear ambrosia of listening to Keys describe her zit lotion as smelling "like farts"?