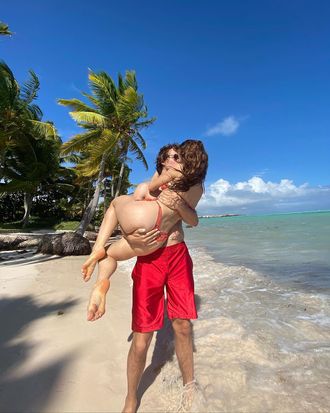 Why is Ansel Elgort's hand … like that.
Photo: @ansel/Instagram
When you think about it, a lot of items demand to be held in a logical, decidedly correct way. A football. A newborn. A wine glass. Even a girlfriend, which actor Ansel Elgort seems to have forgotten when he picked up his high-school sweetheart in a perplexing way that makes me physically ache just looking at it.
Here's what we know about the unfortunate holding incident, which the 25-year-old former DJ documented on Instagram. During a recent sponsored trip to the Dominican Republic with his ballerina girlfriend of seven-plus years, Violetta Komyshan, Elgort saw an opportunity to swoop her up into his arms. There are a few ways he could've approached this: He could've cradled her like a sleeping baby, or even gone into a ballet lift that they've practiced together. But instead, he chose to thread his arm through her legs, wedging his forearm between her butt cheeks, and then pull her in for a kiss.
Did Komyshan agree to this? Have they done this move before? Is her pubic bone okay? And how does the Dominican Republic Ministry of Tourism, which sponsored the trip, feel about this?
I guess love really is unconditional!