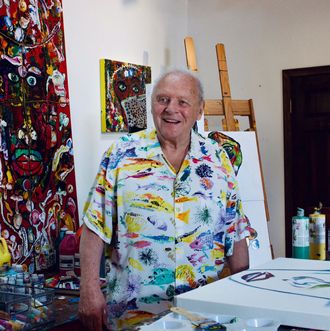 Sir Anthony Hopkins enjoying his art studio on a quiet Sunday.
Photo: @AnthonyHopkins/Twitter
Oh man, Mondays, am I right? What a drag. Well, maybe you're reading this on a Tuesday, or a Thursday. Those days can also be exhausting. Even Saturdays occasionally can be a slog. One could argue, really, that days and weeks and months are meaningless markers of the brutal passage of time and that existence is but one long, bloody march toward oblivion.
One could also argue, as Sir Anthony Hopkins and his cat, Niblo, do in this video posted to Twitter in September, that you should have a happy Sunday [cat with heart eyes emoji].
In the frequently dark smog of existence generally and social media specifically, Sir Anthony's Twitter account is a ray of sunshine. On it, the octogenarian actor shares happy missives from his life — short clips of him painting and playing the piano and cuddling with Niblo.
Here is Sir Anthony dancing in the sun on a "Beautiful Malibu Morning."
Here he is wishing you a happy Wednesday. He thinks Niblo likes his piano playing!
Here he is sitting down to do a new drawing — but not before making some funny faces!
Here is a montage of him enjoying his press tour for The Two Popes back in November. It was a pleasure to meet all these lovely people!
Here are Sir Anthony and Niblo a few days later, wishing everyone a happy Thanksgiving and showing off Sir Anthony's Snow White and the Seven Dwarfs coffee mug, which reads, "Beneath this grumpy exterior beats the heart of a dashing hero," and has a picture of Grumpy on it.
I first discovered Sir Anthony's social media back in early November, when this picture of him enjoying his art studio on a quiet Sunday came across my Twitter feed.
I imagined myself in his place — smiling in a sun-drenched studio surrounded by my art, wearing a bright, comfortable top — and I felt serene. Scrolling through his tweets, I was inspired. I also wanted to enjoy my Sundays, and my Wednesdays. I wanted to play around more with my pet and make more art and not take myself too seriously. Like Sir Anthony, I wanted to enjoy my life so fully that I couldn't keep it to myself, and I wanted my joy to be infectious. I wanted to look fantastic in a newsboy cap on a beautiful day in London.
Admittedly, in the months since, I haven't been very good at practicing this sort of unadulterated joy on or off social media. I find myself easily slipping into gloom and despair. But then I try to think of what Sir Anthony might tweet, and I remember, "The carnival and parade of life… let's celebrate and enjoy…"
Happy Monday.