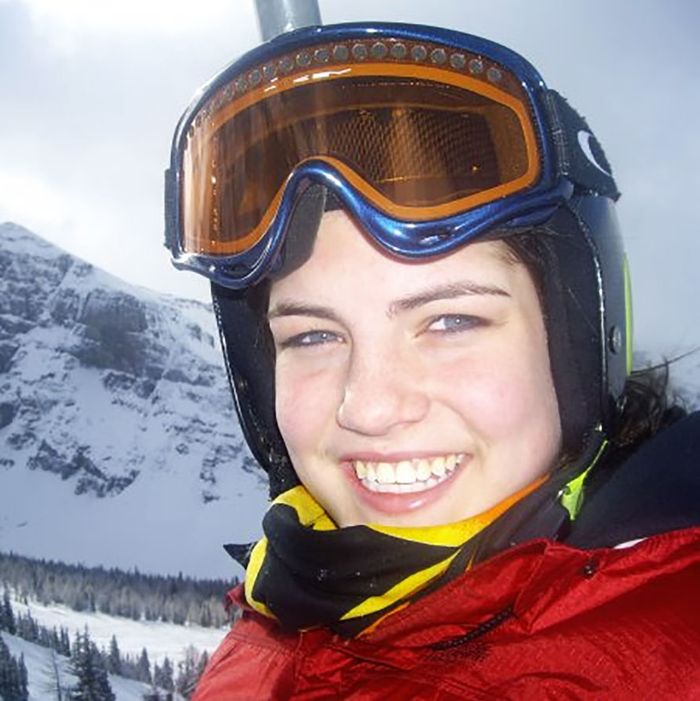 The author, a former downhill ski racer, at 19.
Photo: Marielle Terhart
I've always wondered why "bikini season" is the only time of year synonymous with size-based self-loathing. Seriously, have you tried being fat in winter?
I speak as an expert: I know the true desperation that comes with trying to find plus-size snow pants. I have wept in a sporting goods store, with the temperatures dropping outside and a romantic getaway that required a ski jacket on the horizon. I have optimistically moved a pair of snowshoes from three apartments, despite not owning the clothes to wear with them for over a decade. Oh, I am bitterly aware that winter comes with a size limit.
Clothing confers access, whether we're talking about owning a gown for a gala or a rain coat for camping. And lately I've been counting exactly how many spaces I've had to give up because I simply couldn't find the clothes. I've been sized out of hiking, camping, skiing, skating, snow-shoeing; honestly most of winter, simply because I cannot find apparel to keep my body warm and dry.
This hasn't always been my experience. I grew up downhill ski racing, and the joy of the sport still lingers — memories of when I was thin. My family would drive to Mt. Hood every summer so I could train on the side of a dormant volcano. I raced with fervor throughout my entire childhood before quitting competitive racing to pursue Olympic wrestling, which eventually paid for my degree and gave me the opportunity to compete internationally. The last day I remember skiing was the day I earned my certification as an instructor, when I was 19. I never used it. School, work, and eventually my weight got in the way.
The implications of this history feel outright comical: We are living in a world where skiing on a volcano in July is more plausible than skiing if you're fat.
My growing measurements didn't erase my passion for the great outdoors or transport me to a winter-less existence. I just lost the ability to embrace the stillness of winter like I did when I lived in a smaller body. Patagonia, Arcteryx, North Face, Fjällräven — none of them make snow pants in my size. In fact, none of them make a snow pant above an XXL, which makes little sense when you consider the statistics. Roughly 68 percent of American women wear above a size 14, which is generally a large. The average size of a pair of Patagonia pants has nothing to do with the average size of a typical American woman.
And if you think finding a coat would be easier, you'd be mistaken. The North Face offers the broadest range of sizes — their online size chart stops at a 2XL, but they do offer a 3XL Parka. (Brands often neglect to update their size charts to reflect larger sizes). Fjällräven's size chart, similarly, stops at XL, but if you happen to be in the know, you can ask them for an XXL. Patagonia only offers sizing up to an XXL, and Arcteryx caps at an XL. All of which is to say if you're above a size 22, then sorry, you're too fat for winter.
Think about this for a minute. Then take a step back and think of all the other places that demand specific apparel — work, physical activity, parties, weddings, traveling — and my heart aches, knowing that if I'm struggling in this size 22 body, how endlessly restricted folks in larger bodies than my own must feel.
At any size, I deserve the right to participate. We all do. And if you're a straight-size ally, I implore you to think about these things. Be mindful of dress codes and activity-specific attire, and consider the limitations you're placing on your friends. Your invitation to go hiking, or to a black-tie wedding, might require them to procure an article of clothing that simply doesn't exist — or force them make the humiliating confession that they're too large to be a part of that world with you.
And then start advocating for change, because if you have to choose between hiking and the company of your friends, you're missing out too. At the end of the day, we're all making sacrifices for an industry that refuses to acknowledge that bodies come in all shapes and sizes.
Whenever I speak up about size inclusivity, I get DMs insisting that I should just lose weight — as if clothing isn't a need, but something to be earned. As if avoiding frostbite is a reward for thinness. My goodness, is there anything more crushing than the irony of criticizing the way larger bodies dress, all while knowing how painfully limited their choices are?
So since every winter I find myself in this mess, let me say what all your fat friends are thinking: Clothing is a basic human right, and we are, quite literally, freezing out here.