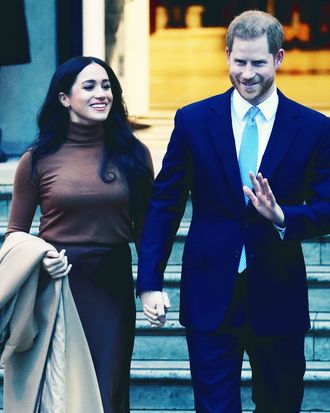 Meghan Markle and Prince Harry.
Photo: Chris Jackson/Getty Images
Yesterday Meghan Markle and Prince Harry announced that they will be stepping back as "senior" members of the British royal family, explaining on Instagram that they will become financially independent and "balance our time between the United Kingdom and North America."
In addition to being a historic, bombshell of an announcement, there's now the question of where two of the world's most famous soon-to-be-former royals and their baby will live.
Last October, Prince Harry said that Cape Town, South Africa, "would be an amazing place for us to be able to base ourselves." However, most evidence (and rumors) suggest that the couple will settle down in either Canada or L.A. Let's review:
Meghan grew up in L.A., and her mother still lives there. The couple recently tapped a Hollywood-based press team, and last fall Vanity Fair cited sources that said — after weeks of speculative tabloid reports — the Sussexes were indeed looking at L.A. properties. Page Six buoyed speculation this morning, claiming that sources close to the couple have said that L.A. is Meghan's first choice: "She likes the lifestyle and the privacy there. She has been getting advice on the move from close friends, including Oprah and the Clooneys, and they have encouraged her that she and Harry can step away from the royal family and follow their own path."
Perhaps, but Canada is also a contender. Meghan and Harry spent Christmas and New Year's on Vancouver Island, on the country's west coast. Their inaugural family vacation was pretty quiet: Meghan took a photo for some random hikers, and we also got this sweet picture of Archie in a pom-pom hat:
According to "a pal" who  spoke to  the Sun yesterday — hours before the Sussex's announcement — the trip was a trial run, and the couple is considering basing themselves in Canada permanently.
A move to Canada would make some sense: Canada is a Commonwealth nation, meaning that it's part of a political alliance of other mostly former British colonies that recognize the queen as the "symbol of their free association." In their announcement, Meghan and Harry explained that they intend to continue supporting the monarchy, various royal causes, and their U.K.-based patronages and charities, which would ostensibly be easier while based in Canada, a country with at least symbolic ties to the crown.
What's more, as the Sun's source noted, "Meghan feels comfortable and at home [in Canada] because she lived there for seven years before meeting Harry." It's true that Meghan lived in Toronto while filming Suits, which is on the east coast — the opposite side of the country from Vancouver, where the couple recently vacationed, so where in Canada they might go is up in the air.
Ultimately, though, this is all speculation. But if you're reading this, Meghan, we can't wait to have you back!