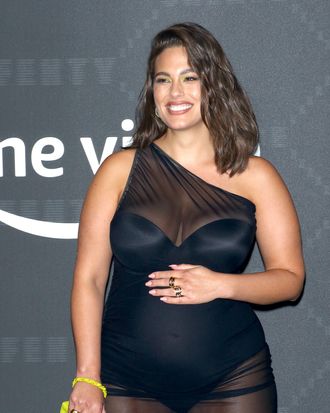 Ashley Graham.
Photo: Jim Spellman/Getty Images
Model Ashley Graham gave birth to her first child over the weekend. She announced the news via Instagram story, writing that "at 6 p.m on Saturday our lives" — meaning hers and her husband, director Justin Ervin's — "changed for the better. Thank you all for your love and support during this incredible time." A little baby Capricorn, how nice.
Back in November, the 32-year-old Oprah superfan blurted the baby's gender on the Ellen DeGeneres Show, in the course of a sneaky Q&A. "A boy," she stated, when asked about the gender, quickly escalating to a scream: "I'm having a boy! I'm going to be a mommy to a boy!" So, we already knew that detail, plus she documented the pregnancy closely on Instagram, starting with her and Ervin's announcement on their nine-year anniversary in August.
"Nine years ago today, I married the love of my life," Graham captioned the post. "It has been the best journey with my favorite person in the world! Today, we are feeling so blessed, grateful and excited to celebrate with our GROWING FAMILY! Happy anniversary, @mrjustinervin … Life is about to get even better."
No word on the name yet, but all in due time, we are sure. Congrats to the new parents!