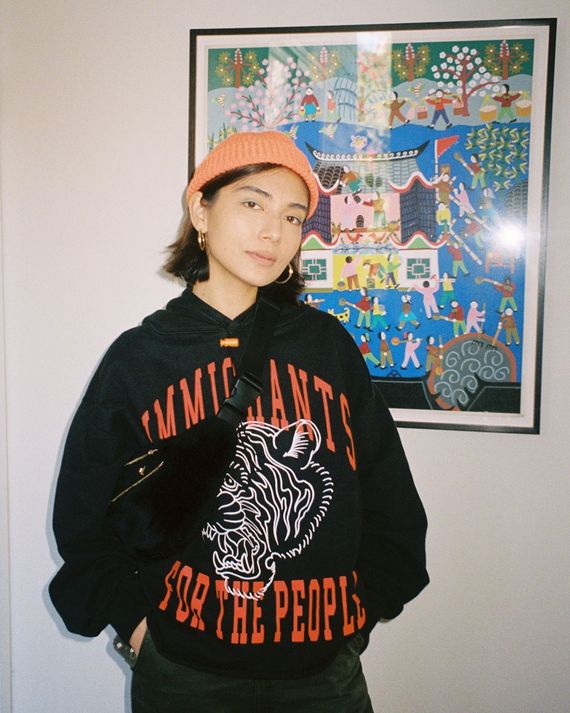 Photo: Jenevieve Ting / @tingrolls
Ashley Lukashevsky often has a hard time explaining what she does for a living. "I always freeze up because I have no idea what to say." She says people often mistake her for a political cartoonist — the kind who draws caricatures of Donald Trump and Nancy Pelosi as Charlie Brown characters for the comics section of newspapers. But when we meet at her colorful, plant-filled apartment in Echo Park, Los Angeles, she has a clear, considered answer: "I am an illustrator and visual artist who draws into existence the world I want to see."
That world often centers around queer, female and nonbinary people of color practicing self-care and activism, and occasionally, eating hot noodles in the summer. She does artwork for an impressive roster of clients, including the ACLU and Planned Parenthood. Lukashevsky works in a pastel palette, framing the characters in her illustrations against a variety of pink and blue backgrounds. With leaves and flowers blooming from an array of bodies, everything in her work is, in a word, organic.

What connects all of these images is that rather than showing people facing oppression, they highlight people coming together. The illustrations, like Lukashevsky, are optimistic: "It gives me more hope to be able to draw what I want the future to look like instead of reinstating the harm and pain that is existing right now. I really rely on hope a lot because of the situation that we're in with all of these cis-, hetero-, patriarchal, capitalist bullshit systems."
Recently, Ashley made an illustration for the We Rise campaign promoting mental health that can be seen on billboards throughout L.A.. The image shows two people hugging, captioned with the words "Everyone's Going Through Something."
That slogan underlines Ashley's journey from struggling artist to popular illustrator in just a few short years. "I think that it's important to check in [with myself] and remember that things weren't always this easy," she says while kicking off her shoes and curling up on her velvet couch. "Things have definitely, rapidly changed."
The 26-year old grew up in Honolulu, Hawaii. After graduating from the University of Southern California in 2015, where she majored in International Relations, she spent her first few post-grad years in L.A. trying to make it as a freelancer: "Back then it was like 'PLEASE HIRE ME FOR ANYTHING!' I would email art directors all day. No response ever," she told me. "I was just extremely broke, subleasing a very dark apartment in Park La Brea — and if you live in LA, you know Park La Brea is a dark place. I had no clients and I had no savings and I was about to give in … and then I got a break."
Amplifier, an organization the creates artwork around social justice, commissioned Ashley to make illustrations related to issues like Voter ID Laws and #DefendDACA (for Rock the Vote) and girls' education (for Girl Rising), and movements like the Women's March.
Her political artwork went viral — but having the pendulum swing so far and so quickly in the opposite direction brought its own complications. "Coming from a background of financial scarcity I always had this mindset like 'Oh yeah, this is gonna be the last time this is offered to me. And if I don't take it, then I'm screwed because what if no one else wants to pay me for anything ever again?" That fear and popularity proved to be a recipe for burnout. "It made me say yes and take on too much and overload my plate and really not have time for things that I love and people I love," she told me.
Even when she does morally align with a company, Ashley still frequently finds herself having sensitive, complicated dialogues with her potential clients. "I just had a situation [where] an art director thought I was Native Hawaiian and tried to hire me for something. Both my parents were settlers in Hawaii in different ways. My mom came from Korea when she was a teenager and my dad was a white surfer dude who moved there from Malibu."
While identity is at the core of so much of her work, Ashley is still navigating what it means to her on a personal level. "I'm still processing it and I'm still figuring out what exactly [being mixed-race] means to me."
Ashley's latest project will be illustrating the upcoming book AntiRacist Baby by National Book Award-winning author, Ibram X. Kendi. It's being published by Kokila, a new imprint of Penguin aimed at making inclusive and diverse content for kids. "I just got the proofs in this morning," Ashley says as she opens up a package and shows me a couple dozen prints. "This is for babies, a baby board book. You know, the kind that's thick so they can't, like, eat it." The illustrations show infants holding their fists up, and looking at the world inquisitively.
Ashley runs her hands across the page. "A lot of the stuff that I create is so that I have a blueprint for the world I want to live in. I think about it a lot as…like a speculative visual fiction."