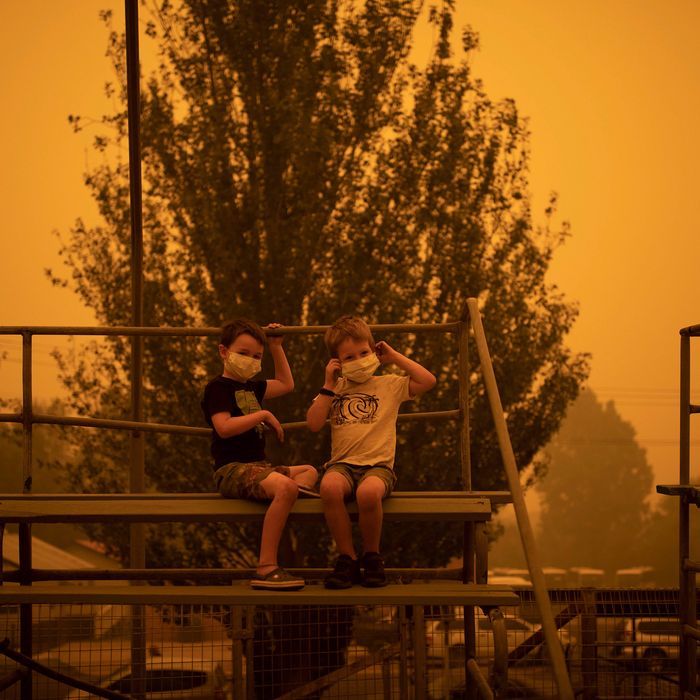 Photo: Sean Davey/AFP via Getty Images
Tens of thousands of people are fleeing to safety in Australia after massive brushfires caused the largest peacetime evacuation in the country's history. The fires have been burning since September, with emergency services struggling to contain apocalyptic blazes. Authorities will not force residents to leave, but are pleading for them to do so.
Many people have fled their homes, some of them running to beaches and huddling on boats when escape routes out of their rural seaside towns were engulfed in flames. Smoke has choked the air and light over cities including Sydney and even as far away as Melbourne. Over 11 million acres have burned, along with an estimated 480 million animals. Ten people have died since December 30, and 28 more remain unaccounted for.
Many Australians are furious with their government's resistance to acknowledge the role of climate change in the brushfires, which experts say are now burning hotter, longer, and more ferociously due to rising global temperatures. Prime Minister Scott Morrison, elected on an anti-climate action platform, visited a damaged neighborhood in the town of Cobargo on Thursday, where angry residents refused to shake his hand, including a 20-year old pregnant woman. The same day, Morrison said that he was committed to "sensible" climate policies, ones that "don't move toward either extreme."
But the "extreme" is already here, as captured in photos taken in New South Wales and elsewhere over the last few days. Red skies and bright orange flames blur the features of humans and animals forced into survival mode, fighting for their lives in homes that, once idyllic, have been horrifically transformed. Their suffering is a portent of what's to come for millions around the world, and what is already happening in the most vulnerable places. Ignoring the crisis threatens to feed what New York's David Wallace Wells describes as "a system of disinterest defined instead by ever smaller circles of empathy." Don't start the new year by looking away.