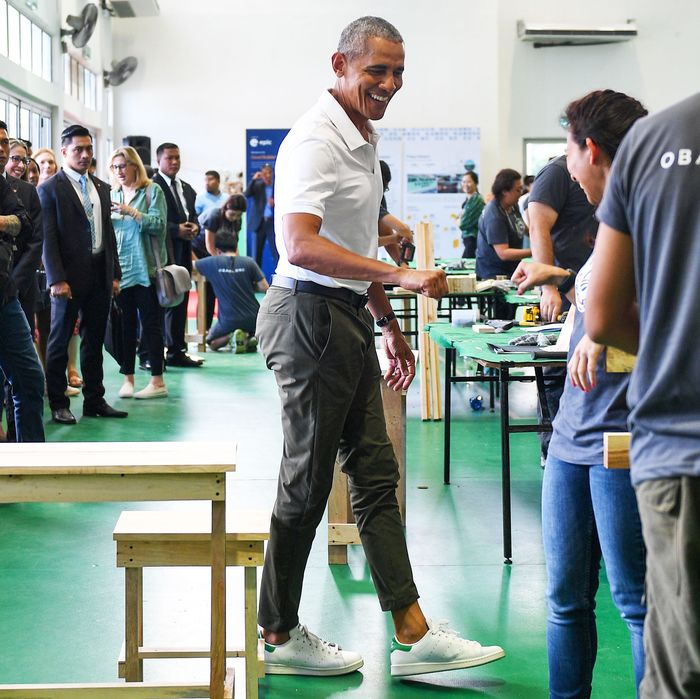 Photo: MOHD RASFAN/AFP via Getty Images
Barack Obama hasn't always been fashionable; he was stuck in plain black suits for a decade and has a history of dad jeans, and since leaving office his experiments with style have produced mixed results. That said, as a naturally elegant and handsome man, the former president is one of those people who always looks well-tailored. But an image of him has been circulating in recent days that has called to attention just how well-tailored he can look:
The photo, from last December, has been making the rounds on the internet this week — often accompanied by ample "tongue" and "sweat" emojis. I have to respectfully agree with the sentiment that yes, Obama is very hot. But the outfit is what I'm concerned with. It's simply perfect: the chinos are flawlessly cropped, the Stan Smiths are pristine, the soupçon of ankle peeking out of his pant is just right.
While he doesn't yet have the fashion sensibility of his Balenciaga-boot-wearing, Schiaparelli haute-couture-clad wife, I'll be keeping an eye on his upcoming ensembles, along with, I'm sure, all of the men in Williamsburg furiously cuffing their chinos right now.