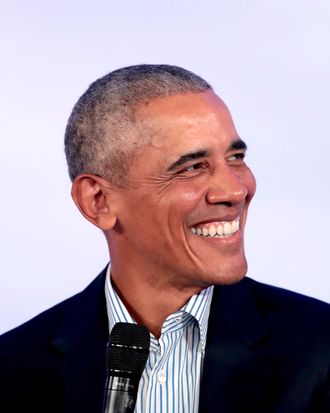 He loved season two, so that means he also watched season one, right?
Photo: Scott Olson/Getty Images
Just before the new year, Barack Obama, a Cool Dad, released his annual best-of lists, cataloguing his top picks in books, movies, and music for 2019. In the literature department, he — probably like you, and basically all of Book Instagram — enjoyed Sally Rooney's Normal People and Jia Tolentino's Trick Mirror; unlike (at least some of) you, he watched Marriage Story and felt something, ranking it among his favorite movies of the year. I, however, am wondering how he felt about the TV series Fleabag — specifically about one very frisky scene featuring his own face. Also, a killer joke about said scene that the show's creator, Phoebe Waller-Bridge, made at the Golden Globes.
Fleabag's second season, you see, landed on Obama's 2019 "Quick List of TV Shows That I Considered as Powerful as Movies," which, of course, duh. This was a magnificent piece of television — the best show on, according to Vulture. The Hot Priest! The jumpsuit! The perennial perfection of Olivia Colman! Her beautiful friendship with Waller-Bridge and the ukulele ballads that flowed from it! Truly, Fleabag gave us so much to love.
In its first season — in its first episode, actually — Fleabag also gave us a memorable clip in which Waller-Bridge, as the titular character, furtively masturbates to one of Obama's speeches while her sometimes-boyfriend sleeps (or so she thinks) beside her. This moment, she later told Vulture, "was all women wanted to talk about," apparently having found it relatable.
So I can assume that many of the show's fans — and perhaps even Obama, himself — were gleeful to see Waller-Bridge bring it up at the Golden Globes, while accepting the award for best comedy. "Personally, I'd like to thank Obama for putting us on his list, as some of you know," she said during her speech, and then added, perfectly: "As some of you know, he's always been on mine."
Alright, Obama — what say ye?
This post has been updated.