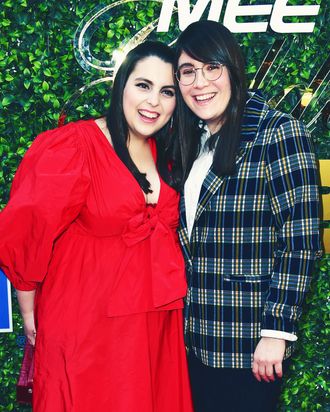 Beanie Feldstein and Bonnie Chance Roberts.
Photo: Steve Granitz/WireImage/Getty Images
The Golden Globes are technically about recognizing talent in film and television, sure, but we often don't recall the annual show by who won which awards. For example, we'll remember this year's as the one where a swath of old men inexplicably wore transition lenses. Where women let their boobs out, to glorious effect. And where a handful of couples — rumored and confirmed alike — walked the red carpet together, either for the first time, or one of them.
One such couple was actress Beanie Feldstein, 26, of Lady Bird and Booksmart, and her girlfriend of a little over a year, film producer Bonnie Chance Roberts. While the pair technically made their red-carpet debut at the premiere of Cats in New York City last month, they drew quite a bit of attention at the Globes last night, when many learned of their relationship for the first time. And their appearance was quite endearing: Roberts wore a collar clip that matched Feldstein's dress, which fans responded to on social media with lots of hearts and crying emoji.
Here's what we know about them.
Roberts is a Scouser.
That's apparently what you call people from Liverpool, which is where Roberts was born. According to her bio on the London Screenwriters' Festival's website, Roberts graduated from Birmingham University in 2013, and "was lucky enough to land her first job as assistant to producer Debra Hayward," who produced Les Misérables. Neat!
She and Feldstein met on the set of How to Build a Girl.
Roberts worked as a film producer for the 2019 film adaptation of author Caitlin Moran's How to Build a Girl, where she and Feldstein first met. (Feldstein had the starring role.) While we don't know how exactly the two found themselves drawn to one another, there must have been a pretty strong connection up front, as Feldstein told Teen Vogue that she wasn't much of a relationship person before meeting Roberts. When they started to date, she says, she "[got] why people write songs."
"Not to sound flippant, but I was in love with her and all of her, and she's a woman," Feldstein said. "That's not scaring me or deterring me. And it wasn't just women in general — it was her specifically."
Roberts is "the best person" Feldstein has ever met.
Or so she says on Instagram, where the two have been posting photos of each other for well over a year now. In a photo Roberts uploaded of them together in August 2018, they're huddled together with another woman — which is to say that, at the time, you probably couldn't have gleaned the nature of their relationship from the photo. But you can assume that they were dating by October of that year, when Feldstein uploaded a more intimate photo of them with the caption, "She made it across the pond."
Ever since then, they've been all over each other's Instagrams.
To be young and in love!!!