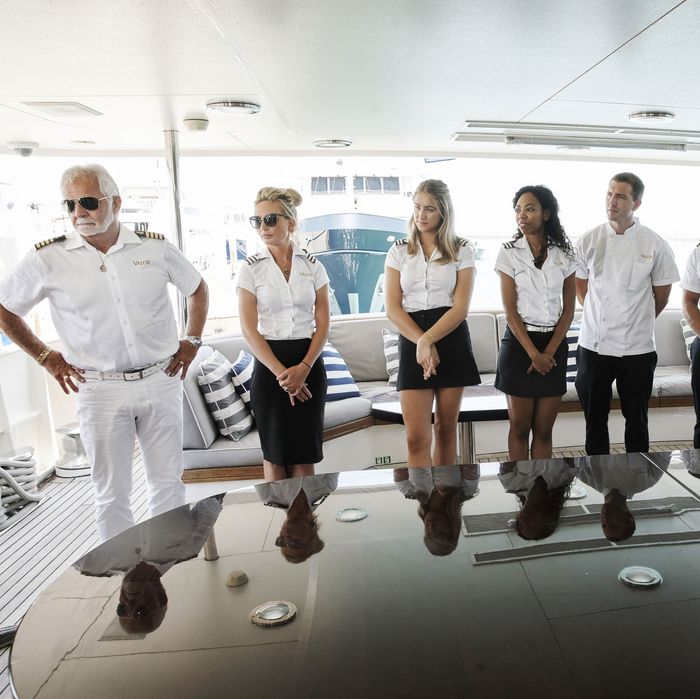 Photo: Bravo/Karolina Wojtasik/Bravo
"I think I would rather have someone pull me through a knothole in the fence by my dick," Captain Lee, the white-bearded, stoic skipper of the mega-yacht Valor, says of hosting a bunch of charter-boat guests from Florida — who asked for Jell-O shots, a pirate-themed party, and beer pong — again.
Imagine hearing this sentence being said by Mr. Bates from Downton Abbey and you're starting to understand why Bravo's Below Deck, the show about a yacht crew serving rich people and then getting drunk in clubs in beautiful resort locales, is currently the best reality show on TV. And why, at any given moment these days, I might find myself saying something about "going up to the bridge for night watch" or "bringing in the stern lines," perplexing my friends and family.
I came to Below Deck seeking safe harbor from Vanderpump Rules, Bravo's original foray into programming that did not focus on the lives of the rich and famous (à la Real Housewives), but rather the people serving them. Vanderpump Rules, which follows a pack of troubled millennials nominally employed at Real Housewife Lisa Vanderpump's restaurants, has somewhat jumped the shark. As the cast members have grown rich and famous in their own right, their plotlines have shifted too: Instead of screaming at each other over suspected infidelities in between smilingly ferrying $13 goat-cheese balls to diners, they are now planning weddings and hosting book-launch events. The best parts of Vanderpump centered on the tension between the cast's social drama and the norms and requirements of their workplaces; now, the SUR-vers are barely working, and a new cast of taut, plump-faced aspiring actors and models is failing to re-create the demented magic of their predecessors.
Hence, Below Deck, now in its seventh season, and its newer, swankier cousin Below Deck Mediterranean, combine the most pleasurable genres of reality programming — cooking show, hotel show, and hot-young-people-hooking-up-and-fighting show — and do it all on million-dollar yachts where you aren't allowed to wear your shoes.
The cast consists of the aforementioned Captain Lee, who exerts a militaristic yet loving toughness, as well as his crew: usually three stewardesses (occasionally a steward) who clean the boat and serve visitors; the chef, typically a diva who "loves his craft"; and three deckhands, who work outside, constantly wipe everything down with rags called "shammies," wrangle Jet Skis, and drop the anchor. Each episode features a new group of guests, and it's the cast's job to try and get the biggest tip they can, which can amount to something like $1,500 for two days of work. Upstairs, they put on smiles as they serve the kind of people who order innumerable truffle omelets and chicken-noodle soup in the middle of Thailand. Downstairs, they make out and argue, when they're not talking shit about the guests, a delightful catharsis. And then, at night, they go out and take shots.
Every so often, the drama collides, as it did in this week's episode, when Kate, the intimidating chief stewardess, was feuding with the chef, Kevin. Kate exacted her revenge by encouraging Kevin to make a bachelorette party penis cake requested by guest Jemele Hill, the former ESPN anchor (sometimes the guests are slightly famous), that wasn't your typical phallus-shaped baked good. He instead crafted a fully erect, freestanding, anatomically detailed penis, festooned with giant purple pubic hair and a sparkler coming out of it. It left the guests speechless, especially because Hill, feeling sleepy, had actually gone to bed.
If that doesn't sell it for you, I'm not sure what will. British Bake Off but a giant penis; Vanderpump in its glory days, with nautical uniforms; raunchy Downton Abbey but the aristocrats are from Florida. Swim, don't walk.