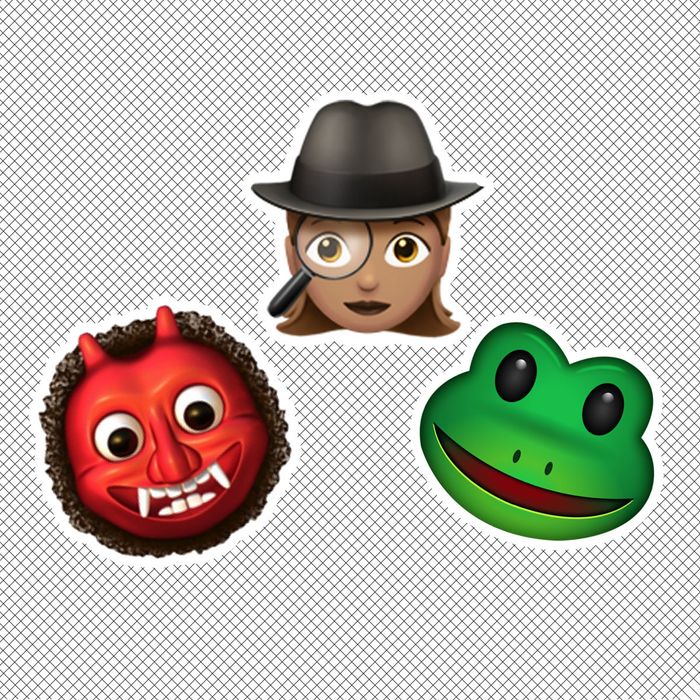 Take a look at anyone's Frequently Used emojis, and you'll likely see the section dominated by a number of beloved yet predictable ideograms: one of the cheery smilies, a heart, an alcoholic beverage, and maybe even one they use when they're overcome by randiness. But among the universally beloved options, you'll probably see a more obscure one that will give you pause.
Yesterday, Unicode Consortium — the organization that births new emojis — unveiled the 117 new extinct animals and weird vegetables and people-doing-activities it will be introducing in the coming year, including a dodo, a gender-neutral Christmas elder ("Mx. Claus"), and a green pepper. At first blush, many of these things may seem impossibly niche — but then again, we all have that one weird emoji we hold close to our hearts, one that your friends associate with you because no one else really uses it, most likely because you've assigned your own arbitrary, unhinged meaning to it.
So, in the spirit of transparency, we are sharing which obscure emojis we love the most — and which, consequently, give disturbing insight our minds.
Female detective 🕵️‍♀️
I'm prodigiously talented at Instagram stalking, so my friends tend to come to me whenever they develop a new crush. I am always sending the female detective emoji to people for this reason … she is just like me, with her magnifying glass and cool lipstick, cracking very important cases. —Callie Beusman, news editor
Fencer 🤺
My favorite emoji is the little fencing person, because its a fun way to invite or diffuse confrontation in conversation. Personally, I like to use it if someone disagrees with me or if someone is being rude. It's also good just to send without context. —Sangeeta Singh-Kurtz, senior writer
Ogre 👹
As long as we've had fancy emojis, we've discussed which ones are The Horny Ones — a conversation that typically includes the eggplant, or the peach, or even the devilish purple face. And almost every time, I'm disheartened by the unforgivable exclusion of the best horny emoji, which also happens to be my personal favorite: the nasty little ogre. To be clear, I don't always send this perverted freak when I'm In The Mood — I just think he's the best representation of horniness, because look at that sick grin plastered across his face. I love him for how shameless he is … a true nasty icon. —Amanda Arnold, staff writer
Leg 🦵
I like the shapely disembodied leg emoji best, and flew into a small panic when I couldn't find it among the Slack emojis approximately ten minutes ago. (It is still on iOS, phew!!) I cannot imagine a regular scenario in which this swole leg would be the natural choice — like, when are you just texting about a leg, when you have all these other emoji options for people getting around, using and not using legs? When you are texting about dismemberment?? Who looked at the emoji menu and thought EUREKA, I HAVE JUST WHAT WE NEED! Detached from its body, this leg is also detached from any context, which I think makes it a solid all-occasions emoji. —Claire Lampen, night editor
Deciduous tree 🌳
My favorite emoji is the deciduous tree. He's become rounder, maybe a bit "cuter," in recent emoji updates, which makes me a little sad, but I still love him. (He used to be leafier.) He's useful in any situation: If you want to say hello, you can say, "tree." If you want to respond to situation is awkward or not good, you can say, "tree." If you want to express a little bit of joy, you can say, "tree tree tree tree tree tree tree." He's perfect. I'll love him no matter how round he gets." —Kelly Conaboy, writer-at-large
Cowboy + frog combo 🤠🐸
It's not the most obscure, but in lieu of a standard smiley, I like the combo of cowboy hat and grinning frog: It's clearly conveying something positive, but a little unexpected too. —Rachel Bashein, managing editor
Running woman 🏃‍♀️
I use her a lot. To my mind, it's unambiguous that she is running toward something, not away or for the sake of it. A real go-getter, the "Woman Running" emoji knows what she wants and how to get it (by moving at a clownishly brisk pace). This bitch will expend all her energy arriving to drinks with her friends no more than 30 minutes late, or getting to the grocery store before the free samples run out. —Hannah Gold, writer
Fairy 🧚
The fairy is dainty and adorable and, in my opinion, deserves as much attention as the Red Dress Lady! She's perfect for when you need to leave a conversation with some mystery, or if you ever need to reference Tinker Bell. —Jennimai Nguyen, editorial intern
Bonus: the yet-unreleased green pepper
One rarely discussed aspects of modern parenthood is that you're constantly texting people about groceries. I just searched my old texts and found hundreds of exchanges between me and my husband about whether we have enough peppers. There are also exchanges with my parents and my in-laws about how we're coming to visit and they don't know what to feed my kids (peppers). I assume this is rarely discussed because it's boring. I'm bored just typing this. But, the green pepper emoji — well, maybe that will make texting about peppers very slightly less boring. I also think you could use it to denote very mild sexual innuendo. —Izzy Grinspan, deputy style editor