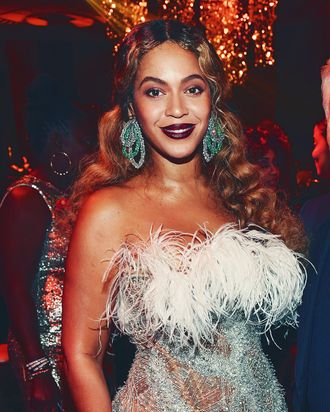 Photo: (C)Kevin Mazur/Getty Images for Shawn Carter Foundation
I would like a present from Beyoncé. The bigger the better, really — especially if it's a giant trunk full of clothing designed by Beyoncé. This isn't a dream I've had for a long time, but it's become an irrepressible one since I started to watch celebrities unbox giant presents from Bey, specifically human-sized orange trunks filled with clothes from her Ivy Park line, which drops a new collection on January 18.
Janelle Monáe, Reese Witherspoon, and Missy Elliott are three of the lucky celebs who received this gift. Each celebrated on social media in their own way. Monáe hid in hers, and modeled the purple and orange athletic clothing inside.
Witherspoon devoted an entire 1:04 minute long IGTV video to her unboxing and subsequent fashion show. Her present was less of a trunk and more of a mobile changing room. Witherspoon changed between orange and purple outfit and modeled it like a mom at a charity fashion show after three Pinot Grigios. Witherspoon's mom was also in the video, which was cute.
It seems like each person got a customized edit of clothes from Ivy Park. Monáe got a voluminous jacket and a sporty matching set. Reese got a formfitting dress and a utilitarian jumpsuit — stuff that's definitely edgier than what she usually wears, but in the realm of Witherspoonian style. Missy Elliott got sweatsuits, of course.
It turns out the perfect gift does exist, and it's the one where you send giant boxes to your adult friends full of clothing customized to their preferences. And you're Beyoncé.