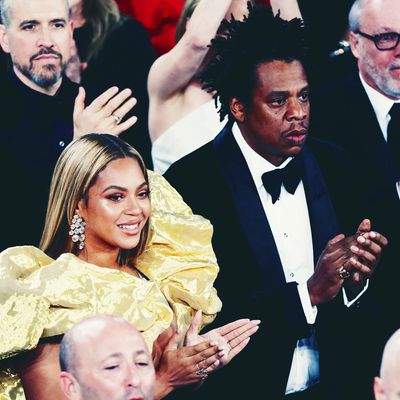 Beyoncé and Jay-Z.
Photo: Neilson Barnard/NBC/NBCU Photo Bank
There's a short, albeit rich, tradition of celebrities showing up to awards shows with their own booze — most often, somewhat quietly, in the form of a flask. At last night's Golden Globes, Beyoncé and Jay-Z joined that tradition in the boldest way possible.
Let's set the scene: Saturday Night Live comedian Kate McKinnon was on the stage, giving a heartfelt speech about how Ellen Degeneres had emboldened her as a queer woman, when Beyoncé and Jay-Z snuck into the back of the room. But they weren't alone. Instead, they were accompanied by a bodyguard, who was wielding two gold bottles of Champagne in his hands. Now this seemed notable — "Is their bodyguard carrying bottles of alc for them?" one reporter tweeted alongside a photo of the scene.
Because it sure looked like it:
As of now, that speculation has not yet been confirmed by the couple, but let's take a moment to closely inspect those bottles. They look quite a bit like Ace of Spades, Jay-Z's brand of Champagne, which comes in gold-foil–wrapped bottles. What they do not resemble is Moët & Chandon, the luxury brand that also happened to be one of the official sponsors of the awards show.
Bringing their own Champagne to an event, sponsored by a competing brand? Imagine having the audacity! But I'm sure they weren't too worried about getting harassed by any daring security guards, considering they're Jay-Z and Beyoncé.