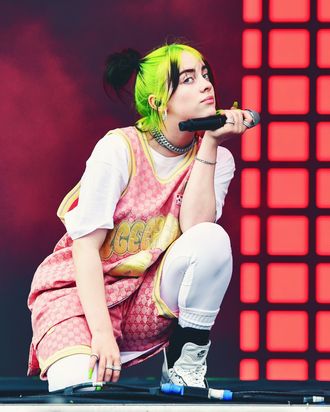 Billie Eilish.
Photo: Erika Goldring/FilmMagic/Getty Images
Billie Eilish may now be a five-time Grammy Award–winning artist, but she is still, in her heart, a cool teen — which is to say, she has not yet internalized the ancient proverb "imitation is the sincerest form of flattery," and finds impersonators seriously annoying. To her credit, I think she has a right to be infuriated.
In a series of Instagram Stories on Thursday, the 18-year-old singer went off on YouTubers who've been pretending to be her on their personal channels — of which there are quite a few. "Turned My Girl Into Billie Eilish — Got Mobbed/Shut Down Mall," reads the title of one video, which she captured via screenshot. Another reads: "I Pretended to Be Billie Eilish *Gone Wrong*"
Ellish explicitly called out YouTuber Jordan Matter, who had a woman dress up in the "Bad Guy" singer's favorite color, neon green — complete with neon-green-dyed roots — and walk around the Santa Monica Pier, in an attempt to trick onlookers into believing they were in the teen star's presence. "Please stop doing this shit," Eilish wrote on top of a screenshot. "It is not safe for you and it is mean to the people who don't know any better you make me look bad." In a separate photo, Eilish zoomed in on the impersonator's baggy shorts and socks, adding, "Also soooo disrespectful that you'd go out pretending to me wearing THIS."
Eilish's mom swooped in to defend her daughter, writing on her own Instagram Story, "This is the scummiest!!!! Faking that you are with Billie and causing fans to be hurt and upset." Next came Matter's apology, who wrote on Instagram, "I had absolutely no intention of disrespecting Billie. I'm a big fan, like everyone else." He also says that he has apologized directly to Billie and her mom, which seems appropriate. (Have I mentioned that this YouTuber is 53? Perhaps a detail worth noting.)
Once again, cool teens come out on top.