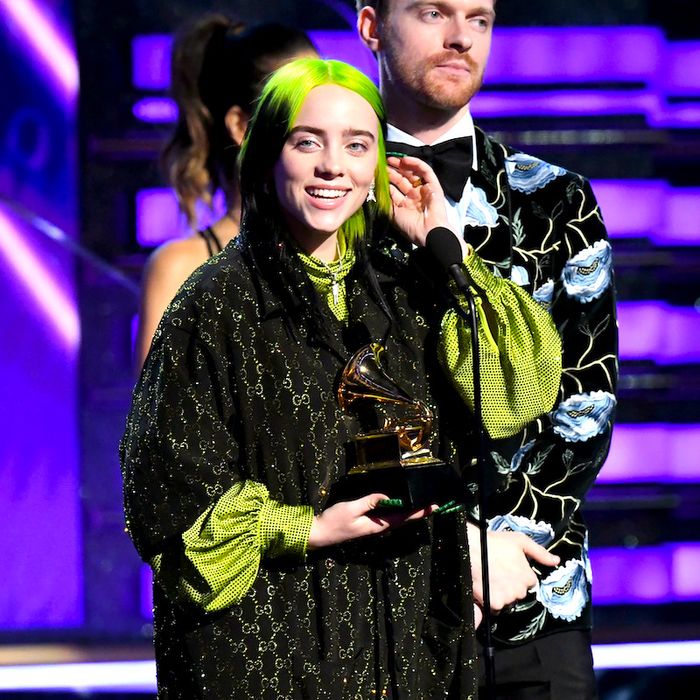 A model of acceptance speech concision.
Photo: Jeff Kravitz/FilmMagic
The Grammy Awards ran to approximately 4,392 hours this year, or at least, that's what it felt like. Those of us at home enjoyed a viewing experience composed probably 60 percent of commercials and 40 percent of Grammy. Many of the shiny gold statues we did see handed out went to cool teen Billie Eilish, who won for Record of the Year ("Bad Guy"), Album of the Year (When We All Fall Asleep, Where Do We Go?), Best New Artist, Song of the Year ("Bad Guy"), Best Pop Vocal Album, and maybe some other stuff, too, I've lost count.
Anyway, Eilish and her brother/collaborator Finneas O'Connell really cleaned up. Their other acceptance speeches were also earnest, and eloquent, and concise, but by the time they got to the final award of the night — Record of the Year — they'd run out of words of gratitude. So, crying and shaking their heads in disbelief (or a genuine desire for all the fuss to please stop, unclear) they simply leaned into the mic and, in unison, delivered the most efficient acceptance speech of the whole event: "Thank you." That's all, that's it, short and very sweet.
I understand that, if you haven't just won all the Grammys and therefore already thanked everyone who needs thanking, failing to acknowledge the people who helped you achieve your current success could be widely construed as rude. And then, it is a special moment you will surely want to commemorate with speeching. But just imagine how much shorter this ceremony could've been, if everyone kept their remarks to a choice two words. Then again, maybe this is a level of chill and understated flex only Billie Eilish can achieve.