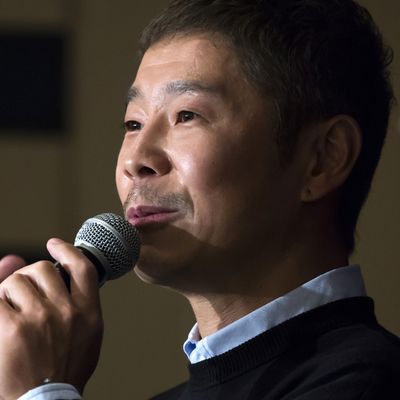 Photo: Tomohiro Ohsumi/Bloomberg via Getty Images
It is, of course, every woman's dream to go to the moon with a billionaire she met on a reality show. And if she can do it as one of the first commercial space tourists, via Elon Musk's space travel company SpaceX?
Well, that would be even better.
It seems that for at least one woman, this dream can be a reality. In September 2018, Elon Musk announced that Japanese billionaire Yusaku Maezawa would be the first private passenger to take SpaceX's "Big Falcon Rocket" on a trip around the moon. The journey is tentatively scheduled for 2023 and would take about a week to complete. But Maezawa will not take the trip alone — no, no. He is looking for a special lady to bring along with him, and that special lady could, in fact, be you (!).
Maezawa is slated to star in a reality show called Full Moon Lovers, coming to the Japanese internet TV network Abema TV. He explained his goal for the show in a statement posted to its application website. He wrote that while he has money, social status, and fame, something is missing. "I'm 44 now. As feelings of loneliness and emptiness slowly begin to surge upon me, there's one thing that I think about: Continuing to love one woman."
"I want to find a 'life partner,'" he wrote. "With that future partner of mine, I want to shout our love and world peace from outer space." Women are invited to apply to be that partner, as long as they meet these guidelines:
・Single women aged 20 or over

・Bright personality and always positive

・Interested in going into space and able to participate in the preparation for it

・Want to enjoy life to the fullest

・Be someone who wishes for world peace
Does that sound like you? I must admit it does not sound like me, as I am not interested in participating in the preparation it would take to go to space, nor am I interested in having a bright personality and always being positive. But maybe it sounds like you? If so, I wish you good luck. Please enjoy your moon boyfriend. I'm sure you will be happy together, making polite conversation while traveling 240,000 miles to the moon and back.